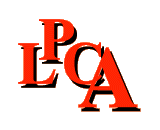 Introducing LPCA
LPCA Advisory Board
Using LPCA materials
LPCA now and in the future
How to contribute
Contact us
LPCA Editorials:
Texts and ownership
LPCA: Where are we?
---
explore the LPCA website: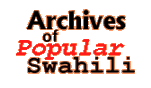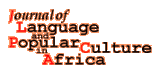 Language and Popular
Culture in Africa
LPCA Privacy Statement
This website uses cookies, small text files placed on your computer, to gather information on the number of pageloads, length of visits, and geographical origin of visitors. LPCA uses this information solely for the purpose of being able to show to its funding insitutions its enduring popularity among users of the web. We would like to emphasize that we do not gather, nor will we attempt to gather, information of a personal nature (such as e-mail addresses). All information we gather is strictly anonymous and will be used in aggregate form only.
If you do not wish to accept cookies, simply go to the appropriate settings of your browser and instruct it to refuse cookies.
This website uses Google Analytics (http:www.google.com/analytics/) and Statcounter (http:www.statcounter.com) to help us analyze how users use the site.

Google Analytics is a web analytics service provided by Google, Inc. ("Google"). Cookies used by Google Analytics generate information about your use of the website (including your IP address) that will be transmitted to and stored by Google on servers in the United States. Google will use this information for the purpose of evaluating your use of the website, compiling reports on website activity for website operators and providing other services relating to website activity and internet usage. Google may also transfer this information to third parties where required to do so by law, or where such third parties process the information on Google's behalf. Google will not associate your IP address with any other data held by Google. By using this website, you consent to the processing of data about you by Google in the manner and for the purposes set out above.
---
---
Last revised/updated: 11 April 2006
Construction and maintenance of this site by
Vincent A. de Rooij
---