ISSN: 1570-0178

Volume 5, Issue 4 (10 July 2003)

---

---







Teachings of the Jamaa movement: Texts and commentaries

transcribed , translated, and commented by

Johannes Fabian

University of Amsterdam

---

e-mail:
fabian@pscw.uva.nl

address:
Dept. of Sociology and Anthropology
University of Amsterdam
Oudezijds Achterburgwal 185
1012 DK Amsterdam
The Netherlands

---
Text 3: Of angels
Context and setting

From the air the mine-workers' settlement of Musonoi looks like a suburban development. Two grids of rectangular blocks of houses touch each other at a slight angle. The one that appears out of line is divided by a mall which, on its median strip, contains a church at the southern end, then a community center, a medical building, and a school. The offices of the administration and the marketplace follow to the northeast. In the western and newer section the streets run from north to south and from east to west. An irregular trapeze is spared out between the western and eastern sections for what appear to be the entertainment facilities: a community hall, a bar, a sizable soccer stadium, and to the north in the dead center of the settlement, the Catholic church, with the rectory and the residence of the social workers.
There we met, in the office that served as my study, bedroom, and living room: Baba Binga, Fr. Peeraer, and I. Baba Binga faced us over the desk on which I had placed the tape recorder. There was some trouble with the microphone and it took a while to fix it. He waited with a patient smile. He had agreed to talk into my "machine," not without some apprehension but perhaps secretly pleased at the recognition we were giving to his authority. In the middle of a paternalist dream come true, in a place where the white man dealt out his wages, houses, food, education, medicines, his games and beer, and even his religion--he, an African working man, was asked to instruct us.
Then I signalled that I was ready. Baba Binga closed his eyes and, at once acknowledging and denying our presence, he addressed us as "fathers and mothers."


---
Swahili text and English translation
| | |
| --- | --- |
| 1. Leo bababa na bamama tunataka kuzungumuza juu ya bamalaika/ kwa sababu tulisikia vile Mungu aliwaumba bamalaika sawa jamaa ya mbinguni/ | 1. Today, bababa and bamama, let us talk about the angels, because we have heard that God created the angels as the Jamaa in heaven. |
| 2. ni sababu ya nini? alakini wamalaika waiko na kazi ile Mungu alibaumba/ Mungu alibaumba bamalaika mingi sana: juu ya mawazo yake: ya ule muntu alikuwa kwake katika mawazo/ yee bado kumuweka mu dunia ndio kile alibaumba bamalaika/ | 2. Why? Because the angels have a task for which God created them. God created very many angels for His thought, for this man of His with whom He was in thoughts. He had not yet placed him on earth when He created the angels. |
| 3. kwa sababu alijua: huyu muntu niko nayo mawazo/ huyu muntu wangu: mimi nitakwenda kumuweka mu dunia/ atakuwa na mwili wa dunia/ hata mule mu dunia: mule atakwenda: atakuwa na mwili wa buzito/ lakini: huyu muntu: ataweza kuenesha mawazo yangu nilikuwa nayo ku mawazo namuna gani? atajua mimi nilikuwa kwa Mungu sababu ya nini/ ni vile Mungu alisema: kumbe ni hivi: mimi nitaumba bamalaika/ bale bamalaika batakuwa sawa mawazo yangu ya kusaria (= kusaidia) ule muntu/ iko mu dunia/ hata iko muntu wa dunia: ataweza kunijua juu ya bamalaika pale batamusaidia/ jambo yetu bababa na bamama/ jambo yetu sana/ | 3. Because he knew: this man with whom I am in thoughts, this My man I am going to place him on earth. He will have an earthly body. There on earth where he is going to go he will have a body of burden. But how is this man with whom I was in thoughts going to realize my thoughts? How is he going to know: I was with God? This is how God spoke: "I am going to create the angels. The angels will be like my thoughts to help this man, the man on earth. Even though he is a man from the earth he will be able to know me because of the angels who are going to help him." Greeting. |
| 4. mawazo ya kwanza ya bamalaika ni hivi/ Mungu alibaumba bamalaika wengi sana: paka ku sauti yake ya yee Mungu mwenyezi: mwenye akili mingi na mwenye milele/ ile mawazo yake aliumba nayo bamalaika ni hivi/ anasema/ anaumba bamalaika bale mankundi sawa kenda/ tena lugha mbali mbali/ | 4. The first thought about the angels is this: God created very many angels, simply through His voice, the voice of God Almighty. He created them with great intelligence and eternal life. This thought of His with which He created the angels is this: He decreed and created the angels in nine groups, each with a different language. |
| 5. bale bamalaika mufano ni paka sawa vile si twiko mu dunia/ dunia yetu ni inchi mukubwa ku macho/ ingine inchi hatuiona kwa sababu macho yetu ni chifupi/ Mungu: yee anaona dunia ni kiloko ku mukono yake/ angarieni siye bababa na bamama mu dunia/ twiko kabila: vile banaandika hata ku bitabu: banasema: mwiko kabila tatu: bekunda: beusi: beupe/ ile kabila: hata mu kabila moja ya beushi: hatusikilizanaka ku sauti: ao ku masemo: hapana/ hata mu kabila ya beupe: bengine habakusikilizana: hapana/ hata ku kabila ya bekunda: bengine habasikilizana: hapanana/ ni tubila sawa tatu mu dunia vile tunaona katika mawazo yetu/ hata katika macho yetu/ | 5. The angels are an example for the way we live here on earth. Our earth is a great country before our eyes. Some countries we haven't seen yet, because our eyes do not reach far. God sees the world. It is small in His hand. Look at us, bababa and bamama, on the earth. We are divided in tribes as they wrote in the scriptures saying you are three tribes: red, black, and white.1 Even within the one tribe of the blacks we do not understand each other when we speak in our words. And in the tribe of the whites some do not understand each other. And even in the tribe of the red some do not understand each other. In our thoughts and even with our eyes we see three tribes on earth. |
| 6. alakini ni lugha ikwamo mbali mbali/ lugha ni nini? masemo: chinwa/ lugha ni kusema: ni masemo ya kabila mbali mbali/ lakini mara ingine sisi mu dunia tunachagulana: minasikia ule muntu anasema lugha yetu/ kama ni ya kiswahili: minasema huyu muntu ni wetu wa Katanga/ kama ni wa tshimangala: tunasema huyu muntu ni wetu wa Leopoldville/ kama ni wa tshiFrance: tunasema ule muntu ni wa tshiFrance/ ao ni wa tshiBelge/ ao ni wa lugha tu wa tshiAnglais: ao wa lugha ingine ya kabila yote ya Congo ao kabila ya mabulaya yote/ ni lugha mbali mbali tu/ mara ingine tunapendana shee paka ku lugha/ sema: huyu ndio nduku yangu/ | 6. In any case, it is the language which is always different. What is language? Speech. The mouth. Language is the speech of different tribes. But often we on earth discriminate against each other: I understand this man, he speaks our language. If it is Swahili, then I say he is a fellow countryman from Katanga. If it is Lingala, then we say this man is a fellow countryman from Leopoldville. If it is French, then we say this man is from France, or he is from Belgium, or he is from where they speak English or some other language of all the tribes in the Congo or the tribes in the different parts of Europe.2 In any case, the language is different. Sometimes we love each other only through the language (because it is through the language that we recognize someone and say) this one, he is my brother. |
| 7. lakini na bamalaika na bo balikuwa lugha yao ndio kusema: si binwa hapana/ ni mawazo/ hata hivi dunia tuiko/ huyu na akili mingi: huyo na akili kidogo/ ndio maana Mungu alibaumba bo bamalaika/ mara ingine ilikuwa sawa mawazo ya Mungu ya kusema: nisikie kama banakuwa lugha: akili mbali mbali vile kama mara ingine bataungana akili hiyi moya/ ndyo maana Mungu: akaisha kubaumba bamalaika bamingi vile/ kiisha alibaacha vile/ | 7. But the angels too had their languages. That is to say, the are not languages of spoken words, they are thoughts. This is how it is even with us here on earth. One is very intelligent, the other has little intelligence. This is the way in which God created the angels. Probably this was God's idea: If they are different in their languages and their intelligence perhaps they are going to unite themselves into one intelligence. This was God's plan and when He had created many angels He left them alone. |
| 8. kiisha alipita tena kwabo: kwa kuwaambia muzuri/ mwee bamalaika/ miye kati yenu minamiumba/ hata vile mwiko nkundi mukubwa alakini kati yenu mwiko sawa nkundi kenda/ tena kabila . . . lugha mbali mbali/ alakini: kati yenu mi simuumba mwee bamalaika bango: mwiko jamaa yangu ya mbinguni/ lakini niko na mawazo moja/ niko nayo/ ni muntu jamaa wa dunia: niko nayo/ ndyo ule nilitangulia hata kuumba katika mwazo yangu/ baado kumuweka mu dunia/ ndyo akili minamiumba mweye bamalaika/ ni vile alibaaumba/ mwee bamalaika: sikieni mimi minamiumba juu ya muntu/ ule muntu ni muntu wa dunia/ ni juu ya kwenda kumusaidia kwa yee kuja kwangu/ hata pale wakati nitakwenda kumuweka mu dunia: mutamusaidia sana/ kwa kumuunganisha kwangu ya kumuleta akili mingi: na mawazo yake ipate kuungana na mi/ ni kazi yenu mi minamiumba mwee bamalaika: kati yenu: hata mwiko mingi/ lakini mwiko akili ya kuacha- ya kuachana/ kumbe mimi namiumba juu: huyu iko na mawazo mingi: ananijua vile yee anajua mawazo yake: minamupendeza ku roho yake kumusaidia malaika mwingine mwenye kuwa na mawazo pasipo kunisikia vizuri kile nilimuumbia/ jambo yetu bababa na bamama/ jambo yetu sana/ | 8. Then He went over to them in order to instruct them well: "You angels, I, the one who created you, am amongst you. You are a large crowd, and among you there are nine groups and groups that have different languages. But I did not only create you as my angels, you are my Jamaa in heaven. But I have one thought which I carry with me and that is the muntu jamaa on earth. He is the one whom I have been thinking to create for some time, before placing him on earth. This is the plan according to which I created you, the angels -- this is how He created them -- you angels listen to me: I created you because of man. This man is man on earth and (I created you) so that you may go and help him to come to me. Even when I am going to place him on earth you will give him all your help to unite him with Me, to give him great intelligence so that his thoughts may be united with me. This is the task for which I created you, the angels. Furthermore, you the angels, you are many, among you there are differences in intelligence. And this is the reason why I created you in this way: There is one who has many thoughts. He knows Me as he knows his thoughts. I like him to help another angel in his soul, one who has thoughts but does not understand Me well and what I created him for." Greeting. |
| 9. ni ile mawazo twiko nayo mwee bababa na bamama/ hata si kati yetu: ya mwee bababa na bamama/ hata ndani ya nyumba yetu si bantu mbili na batoto/ ndani yetu/ mara ingine mu nyumba yetu: mama anajua kupita baba/ mara ingine baba iko na mawazo muzuri kupita mama/ mara ingine batoto beko na mawazo muzuri kupita bazazi yake/ alakini Mungu alituumba kati yetu ya siye jamaa: ya ile nyumba: tusaidiane katika mawazo/ hata katika bukristiani bwetu: Mungu na yee vile vile ametuumba mufano ya bamalaika/ ametuumba sauti yake sawa bamalaika/ asema musaidiane kwa bale pasipo kunijua muzuri/ ni vile bababa na bamama: kati yetu tunawaza nini? tunawaza si kusaidiana na mwenzetu pasipo kumujua Mungu vizuri/ kati yetu mwiko bantu pasipo kumujua Mungu vizuri: sawa kwa mufano kidogo/ hata ku bapagano habamujui Mungu muzuri namna ya kumutumikia/ hata ku bakristiani bengine baliisha kupevuka/ habamujui Mungu vizuri kwa kumutumikia/ ile kazi: ni kazi Mungu alitupa na shee ba jamaa ya dunia/ juu ya kusaidiana: bale benzetu/ bapate kumujua Mungu vile alibaumba/ vile alibawazia/ asema ni jamaa yangu/ jambo yetu bababa na bamama/ jambo yetu sana/ | 9. This is the thought we have, bababa and bamama. (And this is how it is) among us, among you bababa and bamama. (This is how it is) in our household with the two of us and the children. It may be that in our house mama knows more than baba, it may be that baba has better thoughts than mama, or it may even be that the children have better thoughts than their parents. But God created us as the Jamaa in this house so that we may help each other in thoughts. Even in our Christian faith, God created us after the example of the angels. He created us and decreed that we be like the angels: "Help those who do not know Me well." This is how it is bababa and bamama. What do we think among us? We think to help our fellow men who do not know God well. Among us there are people who do not know God well. For instance, there are among the pagans those who do not know God well nor how to serve Him. And even among the Christians some have grown up and do not know God well nor how to serve Him. This is the task that God gave us, the people of the Jamaa on earth: to help our fellow men so that they may know God and how he created them, how He thought them: this is my Jamaa. Greeting. |
| 10. tunasikia tena mu kipande kya mpili kinatuambia/ vile bale bamalaika balikuwa/ nkundi kenda/ Mungu alibaambia asema: niye nkundi kenda hapana/ mwiko paka nkundi moja/ pa kati yenu: hapana mukubwa: hapana mudogo/ jambo yetu bababa na bamama/ jambo yetu sana/ | 10. Then we hear in the second chapter as it was told to us how the angels were nine groups. God talked to them and said: "You are not nine groups, you are only one group. Among you no one is big, no one is small." Greeting. |
| 11. alafu tunasikia kwanza mu bitabu bitakatifu: binatajako bamalaika mbili/ ni kusema ni ba mawazo ya namna gani? mulikuwa sawa benye akili mukubwa kupita benzabo/ ni kusema: kulikuwa malaika moja ni Cain: nani: ni Lucifer/ Lucifer si kusema: shetani: hapana/ Mungu alimuumba paka na jina ya Lucifer/ lakini ni malaika mukubwa/ banasema ni mwenye mwanga/ Lucifer ni kusema ni muntu wa mwangaza anajua mambo ya Mungu vile yote alibaumbia bamalaika/ ao ni vile Mungu anawaza juu ya jamaa iko mu mawazo yake ya bantu ya dunia/ jambo yetu bababa na bamama/ yambo yetu sana/ | 11. But first we know from the Holy Scriptures that two angels are named especially. What kind of thoughts did they express? There were two who had great intelligence, surpassing their fellow angels. There was one angel, Cain [corrects himself] -- (no) it was Lucifer. "Lucifer" does not mean Satan. God created him with the name Lucifer. He is a great angel and they say that he is the one who has light. Lucifer means a person who has light, who knows the matters of God and knows everything and how He created the angels, and who knows how God thought about the Jamaa in His thoughts, the Jamaa of the people on earth. Greeting. |
| 12. tena yee hakuwaambia bamalaika asema: pa kati yenu peko mukubwa: hapana/ peko mwenye kujua mingi: hapana/ alakini alibapa fumbo moja ni kusema: mwee bamalaika kati yenu: mwenye kujua mingi atanisaidia ku bamalaika benzake/ bapate kujua mawazo niliwaumbia/ asiwe na mawazo ya bukubwa yee moja: hapana/ akuweko na mawazo ya kusema: mi nitamusaidia Mungu ndyo kazi aliniumba/ Mungu alituumba juu ya kusaidia dunia/ juu ya kusaidia jamaa ya dunia/ jambo yetu bababa na bamama/ jambo yetu sana/ | 12. Furthermore, (God) did not tell the angels: "Among you there is no chief, no one who knows much." Rather He gave them one and the same order: "You angels, the one among you who knows much shall be my helper among his fellow angels, so that they may know the thoughts with which I created them. He shall not think of him alone being the chief. He shall not think: I am going to help God, this is the task for which He created me." God created us to help the world, to help the Jamaa on earth. Greeting. |
| 13. mwee bababa na bamama: tunataka kuzungumuza sasa juu ya ile sauti ya Mungu anawapa bamalaika juu ya ile mawazo yake alibaumbia/ kipande kingine cha Lucifer: ni kile tunataka kuzungumuza: musikilize vizuri: vile sasa ile sauti ya Mungu ilianza kutumika ku bamalaika: ku ile nkundi yake/ ile ya jamaa ya mbinguni/ | 13. Bababa and bamama, let us now talk about the order (voice) God gave to the angels, this thought about which He talked to them. (This is) the other chapter about Lucifer, and this is the one about which we are going to talk. Listen well how God's command (voice) began to work among the angels, among this group, this Jamaa in heaven. |
| 14. pale bamalaika balibakia/ balibakia nabo kuwaza/ banasema: eeh: kumbe ndyo vile Mungu alituumba: kumbe ametuumba tu juu ya kazi yake/ sasa tunafanya namna gani/ na pale bamalaika balibakia: sasa ule Lucifer alikuwa malaika mwenye kujua akili: ni mwenye mwanga/ ndyo kusema: Lucifer ni nini: ni kusema mwenye mwangaza/ mwangaza ni nini? mwenye akili: mwenye kujua/ | 14. (After God had left) the angels stayed and thought. They said: "So this is how God created us, He only created us to carry out His work. Now, how are we going to do it?" That is where the angels stood. Now there was this Lucifer who was an intelligent angel, the carrier of light. What does this mean, "Lucifer"? It means "carrier of light." What is light? (Carrier of light) means "carrier of Intelligence," someone who knows. |
| 15. sawa vile tunaonaka: mwalimu ni moja: anafundisha watoto ku masomo/ kiisha: mu mafundisho yake yote: sasa kutatokea mutoto moja ku maexaminés asema iko premier: yee anaweza kujuako vile mwalimu alisema/ anatoka premier moja/ ao mara ingine anatoka na deuxieme na vile binafwatana/ | 15. This is the same way as we see it with a teacher. He alone teaches children in school. Finally at the end of all his teachings one of the children graduates as the first one. He knows as much as the teacher taught him, so he graduates as the first one, or perhaps as the second one, and so on. |
| 16. na bamalaika pale balibakia vile/ kumbe kulionekana: malaika moja jina lake ni Lucifer/ sasa na yee alianza kuwaza asema: eh: miye Mungu ananipa akili mingi sana/ sasa: bengine kati yetu habajui hata ile akili Mungu alituumba/ beko tu malaika sawa: beko mawazo yao sawa iko kidogo/ sasa mimi nitafanya nini? alianza kutafuta sasa bale bamalaika benzake benye akili mingi kwa kulipanda nao nkundi yabo bakuwe sawa pekee/ jambo yetu bababa na bamama/ jambo yetu sana/ ile fasi naye bababa na bamama tunaisha kusikia mu bitabu bitakatifu: eklesia ametufundisha mara mingi/ | 16. So this was where the angels stood. Then one angel among them appeared. His name is Lucifer. He began to think and told himself: "So God gave me great intelligence. Some among us do not know the intelligence with which God created us. They are just angels with small thoughts. What am I going to do?" So he began to seek among his angels those who had more intelligence than the others to form a group with them (with the idea) that they should be for themselves.3 Greeting. Bababa and bamama, we have heard about this passage in the Holy Scripture. Again and again the church has taught it to us. |
| 17. sisi bantu: balitshikia kuwa nkundi ya eklesia katolika/ ndani ya nkundi yetu ya eklesia katolika ni kusema: tulisikia vile balituambia asema: ni nkundi mukubwa ya eklesia/ eklesia ni nkundi mukubwa: ni nkundi ya Kristo: ile inafuata mafundisho ya Kristo na kazi ya Kristo/ mwiko mukubwa yetu ni papa/ banamufwata bakarnel: banamufwata na baMongseigneurs: sasa kazi inakuwa mingi/ banafwata na baMonseigneurs/ baMonseigneurs banachagua na basaserdos ba kubasaidia/ na basaserdos muliona kwetu banasema kazi ni mingi: mimi ninakuwa muntu moja/ nipate kuweka balami/ ao basambidiji/ mara ingine bale bakristiani bazuri ba kuweza kubaambia benzao bapagano mu migini yao/ jambo yetu bababa na bamama/ jambo yetu sana/ ni nkundi tu mukubwa: lakini mbali mbali/ sasa kati yetu: mwee bababa na bamama: muangarie muzuri ni kintu kya hatari/ mara ingine tutaweza kuwa shee bantu ba mu eklesia na mawazo mbali mbali/ mara ingine tutaweza kuweka hata bukubwa kati ya eklesia: tutatweza kuwaharibisha bengine/ mara ingine batutakata mankundi mbili/ jambo yetu bababa na bamama/ jambo yetu sana/ | 17. We are the people who have followed the call and became the group of the Catholic Church. In our group of the Catholic Church we became conscious of the task with which we were created, namely the task of the great group of the church. The church is a great group. It is the group of Christ, the one that follows the teachings of Christ and the work of Christ. Our leader is the pope, after him the cardinals, then the bishops. Now, because there is so much work, some come after he bishops. The bishops choose priests to help them, and the priests say -- you have seen it back home -- there is lots of work and I am alone, so I am going to get catechists and prayer-leaders. Perhaps these good Christians will be able to talk to their pagan people in their villages. Greetings. Yes, it is a large group, but there are divisions. Right now, among ourselves, bababa and bamama, if you look well you recognize a danger. It is possible that we, the people of the church, may be separated in thoughts. It is possible that we introduce struggle for power into the church and that we ruin others. It may even happen that we are divided into two groups. Greetings.. |
| 18. mufano kidogo muangaria kwanza/ mawazo yetu ya kwanza/ tuliwaza nini? mara ingine hatukupatana na bakubwa ba eklesia/ mara ingine tulisema: bo ni bakubwa balifunza nguvu/ mara ingine bo banasema: shee tunafunda nguvu/ mara ingine tuliwaza: ule ndjo anajua: mimi sijui/ ni ile mawazo mwee bababa na bamama mara ingine ni upekee kati yetu/ haina vile/ Mungu hakututuma mu dunia kufanya jamaa yake: nkundi ya jamaa mu dunia: muzima: sababu ya vile hapana/ angarieni mwee bababa na bamama ule Lucifer alianza mawazo ya bupekee mukubwa sana/ mawazo mubaya tena zaidi/ mupime kukumbuka ile mawazo/ mara ingine wee unatumikia Mungu: uko muntu wa eklesia: mu nkundi mukubwa ya Mungu: utaweza kuwa na mawazo mabaya ya Lucifer/ unaanza kutumika kwake na mawazo yake/ kati yetu hamuna mukubwa hamuna mudogo/ tupate kusikilizana katika fasi yote/ hata mule mu mugini yetu tunaikala na ule saserdos tuko nayo/ hata na saserdos ule bale bakristiani iko nabo/ bamupeko akili ya kuweza kuongoza eklesia/ mara ingine ule saserdos alete akili kwa bakristiani ya kuweza: kuweza bale bantu banikala nabo mu mugini yabo/ jambo yetu bababa na bamama/ jambo yetu sana/ | 18. First, look at a little example. What were our first thoughts? It may be that we had not had an encounter with the powerful of the church. Perhaps we said: "They are the powerful. They studied hard." Maybe they said: "We studied hard." And again maybe we thought this one knows, I don't. Bababa and bamama, it is this thought which brings loneliness in our midst. This should not be. This is not why God sent us on this earth to make his Jamaa, the group of the Jamaa on earth which is undivided. Bababa and bamama, see how this Lucifer began to plan his great loneliness, a very bad thought indeed. Try to think about this thought. It is possible that while you work for God as a man of the church, while you work in the great group of God, that you may have the bad thoughts of Lucifer and you begin to serve him in his thoughts. In our middle no one is big, no one is small. Let us understand each other everywhere. The priest with whom we live at home in our village, and the priest who lives with those Christians: they should help him with their insight so that he may be able to take care of his church. On the other hand, this priest should give insight to the Christians so that they may be able to tolerate the people with whom they live in the village. Greeting. |
| 19. ni vile Lucifer: mawazo yake mubaya: alianza namna gani? alianza kutafuta bale benye kujua mingi/ anasema: mukujeni: siye tuzungumuza pamoja/ bale hapana/ alichagula bamalaika paka ba akili/ anasema: angarieni vile Mungu alikuja kutuambia/ anasema: mwiko malaika moja/ lakini kati yetu tunaona siye: Mungu sawa alitupa mwangaza ya nguvu/ alitupa akili mingi kati yetu/ kumbe ile mawazo yetu vile tunajua siye ya bukubwa yetu tutaweza kuzungumuza na bale bamalaika kidogo namna gani? tuwape ile mawazo yetu/ tutaweza kufanana nabo? vile kama tunafanana nabo bukubwa wetu butabakilia wapi? batatuona bule: inafaa tuchunge ile kipande ya bukubwa yetu/ yambo yetu bababa na bamama/ jambo yetu sana/ | 19. This is how it is with Lucifer. How did his bad thought begin? He began to go after those who knew a lot. He said: "Come, let us talk together without the others." He chose only those angels who had great intelligence. He said: "See, how God came to talk to us. He said: 'You angels are one.' But we see among ourselves that God gave us a great, a strong light. He gave us great intelligence. Therefore, since we know of our power, how are we going to talk to the lesser angels? Are we going to give them our thoughts, so that we may be similar to them? If we are going to be similar to them, what will happen to our power? They will have no respect for us. Therefore we must protect our share of power." Greeting. |
| 20. ile mawazo inaonyesha Lucifer ni muntu gani? ni shetani sasa/ inamuonyesha ni muntu wa bupeke sasa/ inamuwaza ni muntu wa bumaskini sasa/ kwa sababu anaanza kukata nkundi ya Mungu: bipande mbili/ ya kujua na ya pasipo kujua/ Mungu yee anamupa kazi juu ya kusaidia bale bote bajue namna hiyi moja/ sasa yee anakata bipande mbili/ | 20. As what kind of person does Lucifer appear in this thought?8 Now he is Satan. It reveals him as a person9 of loneliness, as a person of poverty, because he began to divide the group of God into two parts: those who know and those who do not know. God gave him the task to help that all of them should know in the same way. But now he divides them into two parts. |
| 21. ni vile sasa mu kati yabo mulikuwa malaika mwenye kuwa na akili ya kumufuata Lucifer/ jina lake alikuwa Mikael/ sasa pale alimuita Mikael alisema: aah: wee Lucifer ile mawazo unawaza si ile Mungu alituumbia hapana/ ile mawazo Mungu alituumbia hapana/ ile mawazo Mungu alituumbia: ni mawazo ya kuungana/ na kusikilizana/ na kuwa kintu kimoja/ sasa wee unasema: shi tulitenga na mawazo yetu ya mingi/ shi benyewe/ lakini bale bote si bamalaika ba Mungu? Lucifer alibisha: pale alisema: benye kufwata kinwa changu: na benye kupenda kutumika Mungu vile aliisha kutupa mawazo ya bukubwa yetu ya sisi benyewe: bapite huku/ na bo balipita ngambo yake/ sasa Mikael alisema: mwee bamalaika bote/ ile mawazo alisema Lucifer si muzuri hapana/ Mungu hakutuumba vile/ shee hata tuko na akili ya mingi hata kati yenu mukwako wako na akili kidogo kidogo na kuachana na ku mwisho: tupime kusaidia tukuwe namna moja ya kumutumikia Mungu/ kwa sababu twiko jamaa yake ya mbinguni/ kwa sababu kazi yake alituumbia ni kutumikia dunia/ na kumusifu/ na kumwimbia/ sasa kati yao balianza kuwa bubishi mingi: na makelele mingi: na matata mingi/ hawa mara ingine kulianza kupasuka tu mankundi mbili/ jambo yetu bababa na bamama/ jambo yetu sana/ | 21. Now there was among them one angel who came in his intelligence immediately after Lucifer. His name was Michael. When (Lucifer) called him, Michael he said: "Lucifer, what you are planning is not the thought with which God created us; the thought with which God created us is the thought of being united, of understanding each other and of being one. Now you say: 'We separated4 because of our superior thoughts.' But all the others, are they not angels of God?" Lucifer argued for a while and then he said: "Those who are following my call and those who want to work for God according to the measure of power He has given to us alone should step over here." And they went over to his corner. Then Michael said: "You, all the angels, the idea which Lucifer proposed is not good. God did not create us that way. Even though there are among us some of great intelligence, there are among you some of less intelligence, and even some who have so little that they are at the end; nevertheless, let us try to help so that we become the same in serving God, because we are His Jamaa in heaven. The task for which He created us is to work for the world, to praise Him, and to sing for Him." Then a great argument began among them, a lot of noise and lot of trouble. And eventually there was a breaking-up into two groups. Greeting. |
| 22. hata mwee mwiko bantu: mwiko bantu ba mawazo: benye kuumba (kuumbwa?) na Mungu: anamipa akili na mawazo/ mupime kuangaria kwanza hata ndani ya manyumba: hata ndani ya eklesia yetu: hata ndani ya jamaa yetu ya bandugu yetu: muona vile: hata bufalme wa dunia vile biko/ bunatafuta paka bukubwa/ habataka kukala pamoja ya kuzungumuza na kusikilizana na bale bamaskini hapana/ muangarie hata batakiri Mungu anaweka pa dunia: batakiri habapendi bamaskini/ benye kufunda mingi bitabu yabo na mikanda yabo banaona bantu ba tout travail banasema: ni ba bule/ ni bantu ba piki na posholo/ pale hapana masikilizano/ sasa tutafanya namna gani: mwee bababa na bamama? na Mungu anatufanya sawa jamaa yake ya dunia/ kwa sababu sisi jamaa yake ya dunia tunatumaini kukala jamaa wake ya mbinguni: kwenda kusanyika mule mu jamaa ya mbinguni/ ni mule fasi yetu iko/ na shee tutakuwa mawazo mbali mbali vile? si tuwaze/ sababu si wote tuiko bantu ba kuenda mbinguni/ kwa sababu si wote tulibatizwa/ tuiko ubatizo wetu moja eklesia muzima/ hata papa ni mukristiani: hata kardinal ni mukristiani: hata Monseigneur ni mukristiani: hata mon père ni mukristiani: hata miye niko mukristiani: tulipata jina ya mu jamaa ya Bwana Yesu Kristo/ lakini kazi yetu alitupa sisi bote: na bale baiko mbele yetu: na bale baiko nyuma yetu: ni kusaidiana paka kuwa jamaa vile Mungu aliumba jamaa yake ya bamalaika/ na siye anatupa kazi ya kusaidia bakristiani yetu hapa duniani/ kwa jamaa yake ya dunia/ jambo yetu bababa na bamama/ jambo yetu sana/ | 22. And even you people, you who were created by God with thoughts, He gave you intelligence and thoughts, try to see first what is going on in your households, or even in our church, or even in the Jamaa of our brothers. You see how the governments (kingdoms) of the world are only seeking power. They do not want to live with the poor people, to talk to them, and to come to an understanding with them. Look at the rich people whom God placed on earth: the rich people do not love the poor. Those who have learned a lot from their books and notes look down on the simple workmen and they say: "They are of no importance, they are the people who work with pick-ax and shovel."5 There is no mutual understanding. Now, how are we going to act, bababa and bamama? God made us as His Jamaa on earth. Because we are His Jamaa on earth we hope to be with His Jamaa in heaven, to go and be united there with His Jamaa in heaven. This is where we have our place. (If this is so) shall we then be divided in our thoughts the way we are? Let us think: We all are people who are going to heaven because we all were baptized. We all have the same baptism in the entire church. Even the pope is (only) a Christian, even the cardinal is a Christian, the bishop is a Christian, the priest is a Christian, and I am a Christian: we receive our name as members of the Jamaa of Lord Jesus Christ. But the task he gave to all of us, those who were before us and those who will be after us, is to help each other to become Jamaa in the same way in which God created His Jamaa of the angels. And He gave us the task to help our fellow Christians here on earth through His Jamaa on earth. Greeting. |
| 23. ni vile kati yabo balianza kuwa mupaka/ balianza kuwa bipande mbili/ bile bipande mbili ni vile Mungu alisikia makelele mingi ku bamalaika/ inaanza kuwa nkundi mbili/ sasa pale ilianza kuwa mankundi mbili na Mungu alishuka tena lungine kwao/ alisema: Lucifer ni nini? ile munafanya? Mikael alisema/ huyu Lucifer tunafanya réunion mukubwa sana hapa: tunashindwana/ anakatika tu na nkundi mukubwa kabisa/ Mungu alianza tu kuwaambia namna gani: ilikuwa namna gani ile maneno Mikaeli? anasema Lucifer anakatala: kwa si kukabulia bale pasipo akili mingi ile akili yako ulitupa/ anakatshika na nkundi mkubwa/ Mungu alimuangaria Lucifer: alisema: wee Lucifer: vile weye unakatala mawazo yangu/ mimi nilikuumba juu nilikupa mwangaza/ nilikupa akili mingi juu ya dunia/ juu ya jamaa yangu/ hata juu ya jamaa yangu ya jamaa ya mbinguni/ ao juu ya jamaa ya dunia/ juu ya ule muntu niko nayo mu mawazo/ vile wee unakatala mawazo yangu: unanikatala na mi mwenyewe/ maneno unakatala kubasaidia bamaskini bangu mimi nilikuletea mwangaza mukubwa/ sasa: wee sasa: mi sitakudanganya bintu yote akili yako mi sitakudanganya hapana/ mawazo yako mukubwa: mi sitakudanganya hapana/ lakini niko na kintu kimoja sana: kile niko nayo mi Mungu: nitakudanganya/ mi ninakudanganya sasa mapendo/ mapendo yangu ndyo kintu kikubwa mi nakudanganya/ ile mapendo sasa: pale utaikosa: utabakia muntu mpekee: utabakia maskini: utabakia wa mateso/ hautasikilizana hata na ule malaika: ule ulisema: niko nayo akili moya/ mutabakia mbali mbali/ utabakia muntu wa fujo: muntu wa kishilani: muntu wa chuki/ muntu wa kukosa: mawazo yangu/ hata miye/ hautabakia mu mawazo yangu/ jambo yetu bababa na bamama/ jambo yetu sana/ | 23. This is how they began (the angels) to be divided among themselves, they began to be two parts. God heard the noise among the angels when they began to split into two groups, and He descended one more time among them. He said: "What is it, Lucifer? What are you doing?" Michael said: "We had a big meeting with Lucifer here, and we failed (to settle our differences). He broke away with a very large group." God began to speak to them (and said): "How did this all come about, Michael?" He said: "Lucifer did not accept that we should be together with those to whom you have not given great intelligence. He broke away with a large group." God looked at Lucifer and said: "You, Lucifer, this is how you refuse my thoughts. I created you in order to give light to you. I gave you great intelligence for the world, for my Jamaa, my Jamaa here in heaven as well as for the Jamaa on earth, that is for this man with whom I am in My thoughts. By refusing My thoughts you are refusing Me, because you refuse to help those poor of mind for whom I have given you a great light. Now, I am not going to take everything away from you, I am not going to take away your intelligence from you, your great thought. But I, God, have one great thing which I am going to take away from you. I am going to take love away from you. My love, this is the great thing which I am going to take away from you. You shall be without this love, you shall be a lonely person, you shall be poor, and you shall suffer. You are not going to have an understanding even with the angel to whom you said, I and he have the same intelligence. You are going to remain separated. You are going to be a person of disorder, of evil thoughts, of hatred, a person without My thoughts, without Me, and you are not going to remain in My thoughts." Greetings. |
| 24. mwee bababa na bamama: kama Mungu anakudanganya mapendo dunia itakuchukia/ hata ule: uiko naye karibu: ao ndugu yangu: ao kizazi yenu: kitakuchukia/ kwa sababu hauna tena muntu wa mapendo/ | 24. Bababa and bamama, when God takes love away from you, the world is going to hate you, even the ones to whom you are close or my brother or your relatives; they are going to hate you because there is no one left for you to be loved. |
| 25. ni vile Mungu alisema: wee Lucifer: sasa ni mukoshi yako : ni lufu yako: ni bupekee bwako/ wee utakwenda mu bupekee wa milele pasipo hata kuonana na malaika moya/ jambo yetu bababa na bamama/ jambo yetu sana/ ni vile mu ile kipande ya Lucifer kilituambia/ jambo yetu bababa na bamama/ yambo yetu sana/ | 25. This is how God spoke: "Lucifer, this is your curse,6 this is your death, this is your loneliness. You are going to live in loneliness forever without ever seeing another angel." Greeting. This is how it was told to us in the chapter on Lucifer. Greeting. |
| 26. ile mazungumuzo juu ya bamalaika mu bipande byote vile tunasema mu kifupi mulibisikia muzuri? ni kusema sasa tutamileta kwanza mufano/ inatuangaria sisi mu eklesia yetu/ mu hiyi eklesia katolika/ ni nkundi mukubwa sana kati yetu/ kwa sababu ni nkundi mukubwa iko na musimamizi wetu mukubwa wa eklesia papa/ mwiko musimamizi yetu wa kardinal: mwiko musimamizi yetu baMonseigneurs: mwiko musimamizi yetu bapadre: mwiko musimamizi yetu mingi sana: na sisi bakristiani tutabafuata/ lakini ile mawazo munaona namna gani? kati yetu/ mara ingine: ile mawazo kati yetu mutafute muzuri: kwa siye: kutumika kazi si bote: nkundi ya eklesia vile inasema/ Mungu wetu vile alituachia: Kristo vile alituachia ile eklesia yake/ vile aliijenga/ ni juu ya kusaidiana/ jambo yetu bababa na bamama/ jambo yetu sana/ | 26. This conversation about the angels in all its chapters as we have told it briefly, did you understand it well? Now let us first give you an example regarding us in our church, in this Catholic Church. It is a very large group, and because it is a large group it has our great overseer of the church, the pope; it has our overseers, the Cardinals, the bishops, the priests; there are very many of them. And there are we, the Christians, their followers. But how do we see this thought? Among ourselves you must follow this thought well. We all must work for the task, the task of the group of the church as it was said. This is how God left it to us, how Christ left us this church of His; this is how He built it, so that we may help each other. Greeting. |
| 27. sikieni mufano yetu kidogo vile siye tutaweza kutumika mu inchi yetu/ inchi yetu ni mkubwa sana/ inchi yetu ni inchi ya bantu/ mu inchi yote iko bantu/ Mungu anawekamo jamaa yake/ jamaa yake ni eklesia/ ndyo jamaa yake/ eklesia ndyo jamaa yake/ sasa mu ile jamaa yake ya eklesia: anawekamo baMonseigneurs mu ile mission yote/ hata mu ile provinces yote ya mu dunia/ anawekamo: anajengeshamo nyumba yake/ mu ile nyumba yake mwiko parcelles: mwiko parcelles: mu ile inchi yote yake ya bakristo/ ya eklesia/ mwiko musimamizi/ mara mingi mwiko kipande moja ya inchi/ mwiko Monseigneur/ ule Monseigneur haina yee moja hapana/ iko na basaserdos/ juu ya kazi ya bantu banapita buingi/ ule saserdos mu ile quartier yake: hana yee moja hapana/ ataweza kuwamo na bakristiani ba kutumika naye ile kazi inamupa ile Monseigneur/ ni vile mwee bababa na bamama: ni kazi Mungu anatupa/ sasa kazi yetu: tunatafuta ule Monseigneur: asikilizane na bale basaserdos bake/ bale basaserdos ba Monseigneur basikilizane na bale bakristiani bale banasema: bakristiani ni banani? ni jamaa/ ni jamaa/ si jamaa ya kusema ni paka bale banafuataka mafundisho banasema ni bajamaa hapana/ bakristiani ni jamaa/ ni jamaa yote muzima/ ule muntu wote anabatizwa ni jamaa ya Mungu/ ni vile tunatafuta sasa kwa kuongoza kazi ya Mungu/ ipate kutumika mu inchi yetu/ na bale banduku yetu habasikia muzuri/ sisi tubaonyeshe mawazo ya Mungu/ nabo: si bapagano/ hata ni bapagano batabatizwa/ alafu batabatizwa namna gani? ni pale tutazungumuza nabo/ ni pale tutaanza kuanza nabo sawa barafiki: kuenda ku mambo yabo yote/ mu mafasi yabo banaikala/ hatuwezi kuongopa: hata banakuenda mu mabaya: tuende nabo/ hata mu mankundi yabo: tuende nabo: ndyo tuwaopoa/ | 27. Listen to a small example, how we shall be able to work in our country. Our country is very big, our country is a country of people.7 In every country there are people. This is where God placed His Jamaa, and His Jamaa is the church. The church is His Jamaa. Now in this Jamaa of His, the Jamaa of the church, He placed bishops in all the missions, even in all the provinces of the world He placed them there, and this is where He had His house built. There are partitions8 in this house of His, in all the countries of the Christians and of the church. And there are superiors. Often there is a bishop for one part of the country. But this bishop is not alone, he is with the priests, because there are too many people for which work must be done. And this priest in his neighborhood, he is not alone either. He can be with his Christians who help him with the task that was given to him by the bishop. This, bababa and bamama, is the task God gave to us. This is now our task: let us see that this bishop has a good understanding with his priests and that the bishop's priests have a good understanding with their Christians. Who are they whom they call Christians? They are the Jamaa. Jamaa does not mean only those who follow the instructions and are said to be "Jamaa." The Christians are the Jamaa. This is the entire Jamaa. Every person who was baptized is the Jamaa of God. Let us try to carry out the task that God gave us in this way. May we work in our country and for our brothers who do not understand well. Let us show to them the thoughts of God. They are not pagans, and if they are pagans they shall be baptized. But how are they going to be baptized? Only if we talk to them. Only if we begin to be their friends. If we take part in all their affairs wherever they live. We must not have fear, even if they go into bad things let us go with them. Let us go together with them to their groups: this is how we are going to save them. As what kind of person does Lucifer appear in this thought?9 Now he is Satan. It reveals him as a person of loneliness, as a person of poverty, because he began to divide the group of God into two parts: those who know and those who do not know. God gave him the task to help that all of them should know in the same way. But now he divides them into two parts. |
| 28. vile Bwana Yesu Kristo: pa kuanza jamaa yake mu dunia/ asikuenda kwanza na bale balijua hapana/ asikuende kubafuata bale balikuwa mu eklesia hapana/ mwee munajua mwee bababa na bamama: Bwana Yesu Kristo kwa kuanza jamaa yake mu dunia: alikutana neno ya baba yake iko wa mu dunia? alikutana templo ya Jerusalem ilikuwa na basaserdos kama ni mia ngapi? bamabikira kama ni mia ngapi? alakini asiendake kwao kwanza hapana/ aliangaria yee iko bapagano/ hata alikutana bale basaserdos balikuwa tu benye kuvwala matuzuli yabo ya nguvu/ banasema: sisi twiko batakatifu/ shee twiko baprofeta/ shee tunajua byote/ shee Mungu alituambia katika mawazo/ shee tunajengesha templo/ shee tunatoleaka masadaka/ shee tuko mbele ya bantu bengine/ bantu bengine ni ba mazambi/ angaria Kristo yee mwenyewe pa kuja kwanza jamaa mu dunia: alifanya nini? alikuenda kwanza kwa bale pasipo kujua/ bale pasipo kukumbukako ile temple/ hata bale balikuwa pa maji/ hata bale balikuwa ba kushonkesha palata bantu ba mazambi/ hata bale balikuwa tu ba kulima mashamba na bababa yao/ hata bale balikuwa tu basharati tu: na ku banamuke na ku banaume/ alianza hata kuenda kuzungumuza nabo/ juu ya nini? ya kubatosha kule bakuje kujua vile yee anaju- anamujua Mungu/ sababu ya kubaongoza/ | 28. This is how the Lord Jesus Christ did it when He began His Jamaa on earth. He did not go first to those who knew. He did not go and follow those who were in the church. You know, bababa and bamama, when the Lord Jesus Christ began His Jamaa on earth did He first meet with His Father's establishment10 on earth? Did He first meet with the hundreds of priests, hundreds of sisters who were in the Temple of Jerusalem? No, He did not go first to them; He looked after the pagans. And when he met with those priests the ones who were dressed in their robes of power, they said: "We are the holy ones. We are the prophets. We know everything. God told us in the thoughts. We build the temple. We offer the sacrifices. We come before the other people. The other people are sinners." But look what Christ Himself did when He began His Jamaa on earth. First He went to those who did not know, to those who did not think of that Temple, to the fishermen, to the tax collectors11 and sinners, to those who worked their fields together with their fathers, and even to the adulterers, women and men alike. First He went to them to talk with them. About what? To take them away so that they might get to know God as He knew Him, and to get them on the right way. |
| 29. kumbe mwee bababa na mwee bamama: hata mwee bapadre: hata mwee baMonseigneurs: hata mwee bakristiani bajamaa ya eklesia katolika: musiwaze sisi tunapitana ku mawazo hapana/ alakini hata tunapitana ku kujua mule Mungu anatujuisha: anatafuta kati yetu: si tukuwe kintu hiki ki- kimoja/ juu ya kutafuta bukristiani ya kuongoza bapagano/ siye turudie ku ba pagano/ ku bakristiani baliisha kukatala Mungu/ ku bantu baliisha kuharibisha ndoa/ ku bale baliisha kukata mikulu ku nyumba ya Mungu/ bale baliisha kata mikulu mu komunio/ bale baliisha kukata mikulu ku konfesyo/ bale baliisha kuchukia basaserdos/ ni baliisha kuchukia eklesia: bale ndyo bantu twiko nabo mawazo/ ndyo bale kazi Mungu alitupa/ si kama tunapita kule tutaweza kubaendelesha/ tutaweza kubaonyesha nyumba ya Mungu/ tutaweza kubapendelesha na Monseigneur/ tutaweza kubapendelesha na saserdos/ | 29. Therefore you, bababa and bamama, even you the priests, and you the bishops, and you the Christians of the Jamaa of the Catholic Church, do not think that we surpass each other in thoughts. Even if we do surpass each other in knowledge that God has given to us, His wish is that we become one, so that we may seek our Christian faith and help the pagans. Let us go back to the pagans, and to the Christians who have denied God; to the people who have broken up their marriage, the people who no longer set foot into the house of God, who no longer go to communion, who no longer go to confession, to those who have come to hate the priests, to hate the church; those are the people whom we carry in thoughts. They are the work that God has given to us. If we go over to them, then we will be able to bring progress to them. We will be able to show them the house of God and we will be able to make them love the bishop and the priest. |
| 30. kama ule muntu mupagano: mwee bababa na bamama: yee anaisha kulala miaka makumi mbili/ anaisha kuwa muntu wa mashaka mingi/ wa banamuke mingi/ sasa yee anitshikia: wee unaanza kumufuata/ unaanza kuzungumuza naye/ unamuonyesha bitendo yako/ na yee anapenda bitendo yako kabisa/ anakumbuka sasa/ anakupenda sasa/ atapenda nani? atapenda sasa saserdos/ maneno wee unapenda saserdos/ na yee vile anakupenda atapenda na saserdos/ ni vile sasa mikulu yake: inakuwa buzito/ ni nani atamutembesha kufika ku saserdos? ni wee baba unazungumuza na ule muntu/ na vile atamujua saserdos/ na sasa pale atazungumuza na saserdos: na sasa ataona mulango ya nyumba ya Mungu/ ni vile ataona sakramenta yote aliacha/ ni pale sasa atarudia ku komunio/ ni vile sasa atarudia ku masakramenta yote/ ni vile sasa atakuwa muntu wa sala ile aliacha/ jambo yetu bababa na bamama/ jambo yetu sana/ ndyo ile kazi twiko nayo/ ninawambia kwanza wwee bababa: benye kutuendelesha/ mutuhurumieko kwanza/ musikilizeko kwanza hiyi mazungumuzo tunazungumuza na mweye/ mara ingine kati yetu itakuwa tu mukolakanyi mingi sana/ mara ingine mweye basaserdos munaweza kuwazako: jamaa ni kintu kingine/ ao ni mouvement ingine/ ao tu ni mambo tu banafanya/ hapana/ muwe tu paka kati ya bale bakristiani beko banatafuta bakristiani/ mubapeko mashauri/ mutafuta nabo njia ya bukristo/ | 30. Bababa and bamama, let us take this pagan: he is over twenty years old. He is full of doubts about his many women. Now he is ready to listen, and you are going to follow him. You will begin to talk to him, you are going to show him your action and he really likes what you are doing. Now he is going to think it over. Now he loves you. Whom does he love? Now he is going to love the priest because you love the priest. Because he loves you he is going to love the priest. But now he is going to hesitate and find it difficult to make the first step. And who is going to go with him to the priest? It is you, baba, who talked to this man. And this is how he is going to get to know the priest. Once he is going to talk with the priest he will go back to the church, he will go back to all the sacraments he abandoned, he will go back to confession, and he will go back to communion. And this is how he is going to return to all the sacraments and this is how he is going to be a man of prayer, the prayer he abandoned. Greeting. This is our task. First of all, I am talking to you, bababa, you who can bring progress to us: have sympathy with us, come first to an understanding about the things I told you. There may be many differences among us, and perhaps you the priest, will think: the Jamaa is something else, or it is just another organization,12 or it is just one of the things they do. This is not so. Just be in the middle of those Christians who follow the Christian faith. Give them advice and follow together with them the road of Christianity. |
| 31. ndyo vile Bwana Yesu Kristu na yeye alimuitako Petro/ alimuitako Paulo/ alimuitako na ungine na ungine/ bale bamitume/ aliitako bale banamuke babaya/ basharati/ alibaitako bantu ba madawa/ ba bilakushi/ alianza hata kuzungumuza nabo/ pale bantu baliongoka/ pale bantu baliamini/ pale bantu balipata ubatizo/ ilianza kuwa jamaa yake/ ya mitume yake/ alianza hata kubaambia: sasa mi nitafanya nini? hata niko Mungu/ hata niko mwana wa Mungu/ alakini si kazi balinituma kwiko Mungu Baba yangu ni moya hapana/ ananituma kuenda kuzungumuza na mweye: na mwee mwende kuzungumuza na kabila ye- yenu/ hata vile tunasikia mitume kumi na mbili/ ni mu kabila yote kumi na mbili ya ile inchi/ lakini asikusema ni mambo ya ile inchi Israel/ ni mambo ya dunia muzi- muzima/ mwende: mwende mukazungumuze kwanza ile mawazo na bale bantu bamujua Mungu wabo juu ya bumutu yabo/ ndyo ile mawazo/ | 31. This is how the Lord Jesus Christ called Peter, how he called Paul and many others: the apostles, the bad women, and adulterers, the medicine men and diviners.13 He began to talk to them and those people converted became people of peace, received baptism, and this is how the Jamaa came into being, the Jamaa of His apostles. And He began to talk to them and said: "What am I going to do now? I may be God, I maybe the child of God, but this is not the work for which God, my Father, has sent Me out. He sent Me to go and talk with you, now you go and talk to your tribes." We have heard that there were twelve apostles for each of the twelve tribes of that country. But that does not mean that all this was a matter of this country Israel, it is a matter that regards the whole world. Go, and talk about this thought so that these people may know their God through their umuntu. This is the thought. |
| 32. ni vile tunapika aksanti sana: juu ya eklesia vile ilifika kwetu/ haikufike paka na mawazo bule ya Mungu/ ilifika na saserdos/ ilitumwa na papa/ balitukumbukake sisi bantu ba Congo/ si bantu ba humu: bantu beusi ba humu mu Afrika/ balitukumbukako mu ile inchi ya bale balitangulia kusikia mambo ya Mungu/ bale ya inchi ya bale bantu beupe/ habasikuwako na kazi ingine ya kusema: si tunakuenda kufanya bumbulamatari: ao tunakuenda kufanya bucompagnie: na ao usocieté: ao minerai: hata nini hapana/ balisema si twiko na yetu kazi: balitutuma mule/ tutakuenda sasa kuzungumuza na bale bantu/ tupima kusikilizana nabo: pa mawazo: ile tunasikia ya Mungu/ pa bumuntu yetu: vile balituumba siye/ mara ingine bo habajui muzuri/ ni vile balizungumuza na bankambo yetu/ ni vile balifikisha bengine ku bukristiani/ hata na bengine tuliona banafika na ku basaserdos/ hata ni vile na siye sasa: banaisha kutufungulia hata mawazo ya kusema: sasa munaisha kuwa bakristiani: munaisha kuwa basaserdos: munaisha kuwa baMonseigneurs: munaona sasa tuko na baMonseigneurs ba inchi yetu ya Afrika/ sasa ile mawazo ilitoka wapi? ilitoka paka ku bale: balitangulia mu ile inchi ya bulaya/ kusikia ile mawazo/ ni bale balikuja kutusaidia/ lakini hata sasa banasema: ni kintu gani kinatuunganisha nabo? kumbe kama tunafanya nkundi ya ja- ya jamaa/ tunakuwa sawa muntu mo- moja/ jamaa moja/ mutoto wa baba na mama moja/ tunaanza kuzungumuza pamoja/ tutaletana ile akili yetu: tutafanana na Mikael ile/ | 32. Therefore we are grateful for the church which arrived in our country. It did not come just with the thoughts of God. It came with the priests. It was sent by the pope. And they thought of us, the people of the Congo, the people here, the black people here in Africa. They thought of us there in this country where they had heard long ago about the matters of God, there in the country of the white people. They had no other work. (They did not say to themselves): "Let us go and establish a colonial administration. Let us build an industry or start commercial enterprises or let us open mines, and what not." They said: "We have a task for which we were sent out. Let us go now and talk to these people. Let us try to come to an understanding with them through thoughts, the thoughts we heard from God, through our umuntu with which we were created. Perhaps they do not know it well." This is how they talked to our ancestors and this is how they brought, some of them, Christianity and we even saw some of them become priests. And this is how it is with us now. They have opened to us the thoughts and told us: "Now you have become Christians. You have become priests. You have become bishops -- you see that there are bishops from our African countries." Now where did this thought come from? It came from those people who had it for a long time there in the countries of Europe. Those who had heard this thought came to help us. But now they say: "What is going to get us united with them?" (And the answer is): "If we get together the group of the Jamaa then we will be like one man, one Jamaa, the child of one baba and one mama. We will begin to speak to each other and to exchange our insights. And we will be like Michael." |
| 33. kwa sababu Mungu alimwambia Mikael namna gani? pale alipenda Mikael: kusikilizana na mawazo ya Mungu/ kutumikia Mungu/ kusaidia Mungu kwa bantu bake/ kwa mawazo yake/ Mikael Mungu alimwambia namna gani: mwee bababa na bamama? jambo yetu bababa na bamama/ jambo yetu sana/ alimwambia hivi: mwee Mikael ile nkundi ya bale bamalaika inakupenda iko wapi? aliona mara moja/ iko ku mukongo ya ule Mikael/ nkundi mukubwa sana/ alibashauria nini? alibaambia: mweye mwiko benye heri kwa sababu munapenda kutumika na mawazo ya- yangu/ mwee munafanana na miye/ mwee munakuwa kintu kimoja na miye/ mwee mutafurahi na miye milele na- na milele/ muniitakia kutumikia/ bale bantu pasipo na akili kubasikilizana nabo na kubatumikia kazi kila mara na mara/ bo baliitshika/ bo balipenda/ balisema: ni ile kazi ulituumbia/ ni siye Mungu tutakutumikia/ sasa Mungu alibafanya namna gani: mwee bababa na bamama? ile nkundi hakuna nyota mingi sawa ile nkundi ilibakia/ hakuna nyasi sawa: hata mbegu mingi wa ile nkundi ilibakia/ | 33. How did God talk to Michael? He wanted Michael to come to an understanding in the thoughts of God, to work for God and to help God with His people through His thoughts. How did God talk to Michael, bababa and bamama? Greeting. This is how He talked to him: "Michael, where is the group of the angels who are for you?" He looked around and they were behind Michael, a very large group. What was the advice He gave them? He told them: "You are blessed because you love to work with My thoughts. You are similar to Me. You become one with Me and you will be full of joy forever. You followed my call to work for Me, to help those people of lesser intelligence and to work for them again and again." They followed, they loved, they said: "This is the task for which you created us. We are going to work for you, God." Bababa and bamama, how did God make them? This group was not as numerous as the stars, as was the other group which remained: not like grass or seed, as was the other group which remained. |
| 34. hata humu mu dunia sisi bantu twiko kidogo/ kwa malaika moja: Mungu alianza kumukabulia kila muntu yote paka malaika moja/ kwa bale balibakia bale balipenda mawazo yake/ na balibakia na réserve mingi/ hata mutoto: hata unazala batoto tano/ batapata malaika mupya/ kila mutoto yake: hata ukazala makumi tano: hata dunia ikaongaziwa na bantu million na million: itawaza tu paka kupata paka malaika: paka mupya ku ile nkundi ilibakia/ mwee bababa na mwee bamama: bamalaika banabakia réserve mingi sana: juu ya kuongolea bale beko banazaliwa mu dunia/ ni kazi yao balipenda/ habachoke/ na vile beko mu furaha: banamwimbia Mungu/ banakala kwiko muntu: banamuonake muntu: banamukinga ku hatari: na ku mambo yote yoyote itaweza kuangusha muntu/ banamufukuzia ndyo shetani mubaya/ jambo yetu bababa na bamama/ jambo yetu sana/ | 34. And this is how it is with us here on earth, we are only few people. And from those who remained and loved their fellow angels God gave one angel to each man. And there are many left over, even if you have five children each of them will get a new angel. Each child will have his angel, even if you have fifty children, even if the world is filled with millions of people each will receive an angel, a new angel from the group which remained. Bababa and bamama, many angels are left over to lead those who are born on earth. This is their work and they love it. They do not get tired of it. And so they are full of joy and sing for God. They stay with a person, they look after him, they protect him against danger and anything that my cause him to fall. They chase away evil Satan. Greeting. |
| 35. Lucifer: kinywa chake ni hiki: mwee bababa na bamama/ hakujake: kuonekana na macho/ anakujake ku sauti ya muntu mwengine/ Lucifer: kazi yake ni kutulongofya/ kwa mwee kumujua Lucifer: mutamujua namna gani? kama unasikia muntu mwenzako: rafiki yako: ule unakuwa unazungumaza nayo: unakula nayo: anaanza kukwambia: mwenzetu: kule ku nyumba kwa Mungu iko unakwenda ni bule tu: ni mambo ya bazungu/ bale mon père: tunaisha kujua mambo yao/ wee uwaze tu: ndyo Lucifer/ maneno anataka kuniachisha tu kazi ya Mu- ya Mungu/ ndyo Lucifer anaonekana/ mwenzenu anaanza kukuambiako: wee mwenzetu: tuende tukatafuta baanamuke ba bale/ ni Lucifer anatafuta kukuachisha wako wa mariage/ anatafuta kukuachisha wako sakramenta ile balikupa mu nyumba ya Mungu/ maagano yako ule uliangana: anataka kukatayo/ ni Lucifer anaonekana/ umuogope ile mwenzako/ hata wee mama: ni paka vile vile/ hata mwenzako munaanza kuzungumuza nayo: munaanza kutembea nayo mu mashamba: mu fasi yote: ku nkundi ku nsoko: anaanza kukwambia: eeh: kwa wee kapata franga ya pembeni ni hivi na hivi/ ule mwenzenu: anatumika na kinywa cha ule muntu balifukuza/ ule wa fujo/ ule wa kuweza kukosesha bantu jamaa yao/ na wee utamuogopa ule mwenzenu/ kama wee uko na mwangaza: na wee utaanza kumwambia: wee mwenzetu: angaria mama fulani: alifanya kintu fulani vile/ bwana yake alimupiga: sasa iko wa mateso: alimuima nguo; alimuima chakula: alimufukuza: sasa anabakia muntu wa mateso: sasa hana bwana: sasa anahangaika/ wee ile maneno: acha iko mubaya/ ni kazi weye unabakia mu nkundi ya Mungu: pima kumushauria/ jambo yetu bababa na bamama/ jambo yetu sana/ | 35. And this, bababa and bamama, is the language of Lucifer. He does not come forward, he does not appear before the eyes. He comes in the voice of another person. Lucifer's work is to deceive us. And how are we going to recognize Lucifer? When you hear your fellow man, your friend, the one with whom you are talking, the one with whom you are eating, begin to tell you: "Friend,14 to go to the church as you do is useless. These are the matters of the whites. Those missionaries, we know what they are up to." You must realize, this is Lucifer because he is trying to get me to leave the work of God. This is how Lucifer appears. Your friend will begin to tell you: "Let us go and look for their women." This is Lucifer who is trying to get you to break away from your marriage. He is trying to make you abandon your sacraments, those they give to you in the church. And he is trying to make you break the promise you gave. This is Lucifer who appears. Fear this fellow man. And with you, mama, it is the same way. Your friend with whom you talk, with whom you are going out to the field, and everywhere, and to the market, she begins to tell you: "If you want to make money on the side this is how to do it." This friend works with the voice of the one whom they chased away, the one who caused trouble, the one who has the power to make sinners of people in their families. You should fear such a friend. If you have the light you are going to talk at length to that friend: "Listen, friend, look at this mama. She did this or that. Her husband beat her, now she is suffering. He denied her clothes and food and he chased her away. Now she is suffering. Now she has no husband any more. Now she is in trouble." Don't do that, it is bad. You have your task in the group of God and that is to try and give her advice. Greeting. |
| 36. kwa sababu Lucifer: balimufukuza: abasimuhurumia na budi leo/ anabakia tu muntu pekee milele/ | 36. Because they chased away Lucifer and they have no mercy with him to the present. He remains alone forever. |
| 37. lakini sisi hata tunaanguka/ hata tulianguka: hata tuliisha kufanya mabaya: musiwaze Mungu anatutupa/ ametupa malaika iko paka na siye/ anatafuta paka tuongoke/ kuongoka kwetu: ni kurudia mu nkundi ya Kristo/ ni kurudia ku sakramenta vile tuliagana naye/ mu mambo yetu yote tuliagana mu ile sakramenta/ mu ubatizo tulisema: shetani tunakukatala/ mu ndoa tunasema: tunachagula wetu moja/ mu konfirmasyo tunasema: siye tunakuwa na nguvu/ siye tunamukatala shetani/ si tutamutumikia Mungu/ mu komunio tulisema: wee Bwana tunakupenda/ mu sakramenta ya mapendo ya komunio tulisema: tutakupokea kila siku na kila mara: mupaka na kufa kwetu/ mu sala yetu: mu nyumba yako tulisema: hatutakata mukulu ku nyumba ya Mungu/ jambo yetu bababa na bamama/ jambo yetu sana/ kumbe muepuke mahatari yote hiyi/ muepuke ile mahatari ya kukata mukulu ku nyumba ya Mungu/ muepuke ile mahatari ya kuuwa mandoa/ ya kuwa masharati/ muepuke ku ile hatari yote ya kuwa na kishilani: cha kubenga basaserdos: ao bale bakristiani/ muepuke tu ku bishawishi yote ya banduku yenu/ ndyo shetani munaona bale ba mashauri mubaya/ mwee mupime kubaongozia: mwee murudie ku maagano yenu unaangana na Kristo/ | 37. But even if we fall, if we happened to fall and have done bad things, do not think that God abandons us. He gave an angel to us and he sees that we get on the right way. To turn the right way, that means for us to return to the group of Christ. It means to return to the sacraments as we promised, to all those things we promised in the sacraments. In baptism we said: "We renounce you, Satan." In marriage we said: "We choose our only one." In confirmation we said: "We are full of strength, we renounce Satan. We work for God." In communion we said: "We receive you, Lord." In the sacrament of love, the sacrament of communion, we said: "We receive you every day again and again from now on until we die." In our prayers in your house we said: "We shall not stay away from the church." Greeting. Therefore, avoid all these dangers. Avoid these dangers of separation from the church. Avoid the dangers of breaking the marriage and becoming adulterers. Avoid all the dangers of becoming people of evil thoughts, people who have no respect15 for the priests or for the Christians. Avoid all the temptations from your relatives. It is Satan whom you recognize in the people who give bad advice. You try to bring them back on the right way. You return to your promises by which you are bound to Christ. |
| 38. ni vile mwee bababa na bamama: ile kipande cha bamalaika: ni mambo murefu: tunakatia pale: na mwee: mubakie kuwaza milele na- milele/ | 38. This, bababa and bamama, is the chapter about the angels, a long affair. We stop here, but you go on thinking about it forever. |
---
Commentary

Communicative Situation and Genre
If texts are considered products of a communicative situation giving access to a communicative context, then it seems our approach is severely taxed by instructions such as the one we just presented. The circumstances of its recording (made on May 9, 1966 at Musonoi) appear to be a far cry from those that "naturally" and spontaneously would result in an articulation of mawazo through instruction. The event was, so to speak, covered by layers of artificiality: the place--an office in the physical and symbolic center of bureaucratic structures; the time -- set by convenience and appointment; the speaker --acting as an "informant" who delivered a specimen of his teaching; the audience -- two people united in the same category of colonial classification but divided in terms of their past history with the movement and their present intentions and aims: one a leading follower, the other a curious outsider. The very absence of the Jamaa group could be expected to reinforce latent attitudes in a triangle of apprehensions and to lead to all but inconsequential communication. Yet, judged by criteria that define the genre mafundisho, the recorded text is almost undistinguishable from instructions produced in situations which we would consider natural, i.e., marked by the presence of the group, by authoritative delivery, and the by purpose of instruction in a specific chapter of the doctrine. Is it possible that "teaching" as a product may be separated from teaching as an event? Undoubtedly, Text 3 comes close to that. Not entirely by accident, I should add, because the Jamaa of Musonoi had experience with the fixation of mafundisho prior to my research. Recordings had been made, and, more importantly, the group had produced a written catechism of doctrine in the form of a document we called kitabu (Fabian 1971a:124-29). That such fixations had occurred points to a development beyond and away from the living context in which we have tried to place our interpretation of mawazo.
In sociological terms, it suggests a routinization of charisma, an organization of communication which eventually would place the Jamaa somewhere in a typology of separatist churches and sects. But at this point, these sociological categories do not elucidate the situation we try to comprehend. Clearly, the three of us had not assembled for the purpose of a sectarian fixation of doctrine. In fact, a second, more careful look at the text leads one to discover that beneath the artificiality of the external circumstances, baba Binga succeeded in defining the communicative situation in such a way that it remained within the range of those that might produce mafundisho. Anticipating our comments on style and content of this text, we can point to two important indicators supporting this observation. First, in his opening statement, as well as in the greetings throughout the text, the speaker retains a form of address which presupposes the presence of a Jamaa group. That this is not just a stylistic feature but a situation-defining expression is borne out by many similar situations in which I asked informants to recite mafundisho outside the proper context. Almost all of them insisted on the presence of at least one other member of the movement (a condition which, by the way, was fulfilled in the case of Text 3; Fr. Peeraer was a member) as well as on the spiritual presence of those to whom mawazo should be communicated. Second, Text 3 contains a section which, by way of contrast, gives further support to our interpretation. Throughout most of this instruction, the speaker aims at an imaginary or spiritually present Jamaa audience, but in several paragraphs (29, 30, and 32) he changes direction, so to speak, by addressing his mafundisho to the clergy represented in the room. The fact that he consciously acknowledged the actual circumstances while maintaining the frame of mafundisho as an ideal event clearly points to the power of Jamaa definitions of that communicative situation. In stepping out of it, the speaker acknowledges its boundaries and rules.
Nevertheless, ethnographically the status of Text 3 is precarious; it challenges the schemes of interpretation we applied elsewhere. In itself that should be taken as a sign that we confront a reality that escapes complete comprehension and definition. Theoretically, it underscores the contention that our view of text-production, and within it our model of generic differentiation (see Fabian 1991: ch. 3 [orig. 1974]), must not be misunderstood in terms of a linear causality. If we relate certain social rules and constraints defining a communicative situation to certain formal features determining the genre of a communicative product, i.e., the text, we are not proposing that the formal differentiation of discourse is "caused" by social norms. Much less do we want to give the impression that we advocate an ontological priority of the social over the "linguistic," as if the proper object of sociology were the phenomenon, whereas language communication would belong to an epiphenomenal domain whose study would have the only use of confirming sociologically gained insights. Nor, for that matter, do we want to turn that paradigm upside down and maintain that language communication is a self-contained domain reserved to "pure" linguistics to which sociology can add but contextual, i.e., non-essential, evidence. Our dialectical model attempts to avoid such reductionism when we insist on the notion of the communicative event as the mediator between social situation and language product.
The ethnography of Text 3 can shed some light on these theoretical postulates. Like other texts, it originated in an intersubjectice field between a speaker and his audience. It had a concrete subject as its producer (the speaker), and other subjects as co-producers (the audience). For, with respect to the text as a communicative product, listeners are co-producers. What makes such co-production possible is a condition we refer to as "shared temporality." Without shared temporality, the notion of a communicative event cannot be conceived. The important point is this: while it is possible to think of socially defined situations and of formally determined texts as facts, i.e., data-complexes whose recursive features, structures, determinants, may be accounted for in a cause-effect scheme, it is impossible to apply this view to the constitution of intersubjective events. The reason is that they can happen only when these elements of objective social reality are actualized in subjective time, i.e., in the temporal dimension without which the actions of subjects are inconceivable. The conflux of subjective temporality in the intersubjective event is of necessity an open process. It emerges out of the past of individual experiences and flows into the future of individual projects. Its social presence is constituted by communication to which we have access only as participants, but as active participants who at least potentially have the power to shape and define the event as it occurs.16 As it happens, our text offers some corroborating evidence for this theoretical statement. Consider the introductory and concluding formulae (1, 38). The speaker begins his instruction with a statement of time: "Today, fathers and mothers, let us talk ...". Without attempting to press the point, one may take this as evidence for his awareness of the present event as one that is embedded in a past of yesterdays and a future of tomorrows. The latter is taken up in the concluding sentence when the speaker announces that his instruction has come to an end but that his listeners "should go on thinking about it forever."17
We may assume that baba Binga had come to the meeting to oblige the missionary who acted as an intermediary for the anthropologist. Seen in these terms, the African informant appears as the owner of a piece of information, the missionary as some sort of broker, and the anthropologist as a recorder/processor of data. Persuasive and generally accepted as this view may seem, it does not describe what really happens, for the simple reason that we have no way of knowing that prior to the event of communication there was a piece of information that could be handed down in this fashion. It was the communicative event that produced the recorded text. The result is a product, a "work", not a datum. As such, it needs to be interpreted through notions and criteria that make it possible to understand the process of its production.
After this digression into some of the epistemological problems posed by the ethnography of Text 3, we may return to the task at hand and introduce the speaker. Baba Binga was among those who delivered mafundisho in the weekly meetings of the group. At the time when our recording was made, he was about forty years old, married, and the father of eleven children between the ages of one and twenty-one. Professionally, he had been successful; he was employed as a locomotive engineer and had attained one of the highest ranks in the evaluation scale used by the mining company. His past history in the movement had made him one of the most prominent leaders in Shaba. In 1953 he was initiated to the Jamaa by Father Tempels, and belonged to the small group of recognized founding fathers at Ruwe, near Kolwezi. In 1957 he and his wife were among three couples who, having been transferred to Musonoi, began with intensive propagation of the Jamaa. Ever since, baba Binga could claim the authority that derives form a high position in a system of spiritual kinship and filiation: he was the father of many "children."18
When Text 3 was recorded, baba Binga assumed quite naturally the role of an authoritative preceptor, not only in the tone of his delivery and judged by non-linguistic clues, but also in terms of the content of his instruction and the kind of rhetoric appeal he chose to create.19 His mafundisho was delivered in a style which makes little use of direct admonition or exhortation. Yet it had an effect more powerful than moralizing indoctrination to the extent that the speaker succeeds in conveying to the audience a sense of historical/practical urgency which derives from his concrete experience as a founder and shaper of Jamaa and mawazo.

Content and Style
In marked contrast to Texts 1 and 2, the doctrinal content of this instruction is focused and clearly identifiable as one section of our catalog of major topics of Jamaa teaching. It recounts the story of the angels, the second theme in the division that we labelled "creation" (see Figure 1), with the exception of paragraphs 26-32, which, at this point, may be interpreted as an insertion taking up themes that can be located in both "origins" and "realizations."
Measured by the criteria we found to be characteristic of the mythical-historical style, this mafundisho about the angels approaches its pure form. Building on the categories developed in our commentary to the two preceding texts, we may attempt the following schematic presentation of this instruction (see Figure 6). Again, we distinguish major segments of a temporally oriented sequence along the horizontal axis, while contrasts between levels of discourse are marked on a vertical axis. The indicators that allow us to distinguish segments as well as levels are quite similar to those we found in Text 2 (see Figure 5). Along the horizontal axis we marked the following major divisions. The text is bounded by a clearly recognizable introductory statement (in paragraph 1, briefly developed in paragraphs 2 and 3), and a concluding formula (paragraph 38). The body of the mafundisho is structured by the speaker in terms of chapters. These are either explicitly announced as mawazo or kipande (e.g., in 4, 10, 25, 26, 38), or implicitly introduced trough changes in the main actors or major topics. On the basis of these two kinds of clues, we can discern five sections in Text 3: (1) the creation of the angels (paragraphs 4-9); (2) the "organization" of the angels and God's command to them (10-12); (3) the response of angels, centering on the action of the two leaders, Lucifer (13-20) and Michael (21-25); (4) an "inserted" section on the role of the hierarchical Church (26-32); and (5) a continuation of the primary account with the story of Michael's group and Lucifer's condemnation (33-37).
---
Introduction
Exposition
Insertion
Exposition
Conclusion

---

---

---

---

---

Recall
1
2
4
7
8
10
12
14
16
19
21
23
25
28
31
33
36

---

---

---

---

---

---

---

---

Realization
3
5
6
9
11
13
15

17

18

20
22
24

26

27

29

30

32

34

35

37
38

---

---

---

---

---
Figure 6: Narrative Structures of Text 3.
---
With the apparent exception of number four, these subjects are linked as subsequent events in a narrative of creation, division, confrontation, punishment, and promise. At crucial moments God Himself (Mungu) appears as an actor on the scene (4, 8, 10, 14, 23, 25, 33), thus giving additional inner unity to the account.
As expected, however, we find within each of the sections an interdigitation of segments that continue the narration of mythical events proper and others which relate these to a present state of affairs. As in Text 2, we regard these contrasts as indicators of switches in the level of discourse, marked along the vertical axis as "recall" versus "realization." Mythical events or states of affairs established in mythical events are invoked as forces or models for/of the present situation of the world, of the movement, and of its sociocultural context. In addition to these structural features, our text contains numerous lexical indicators for a mythical-historical style. But before we comment on these, we must clarify a number of structural problems.
The most important one is posed by what we have been calling an "insertion" in the main narrative sequence of Text 3 (26-32). Let us first examine the signals that mark an interruption of the main account and then interpret their significance. A first clue is given at the beginning of paragraph 26, when the speaker announces that he has reached the end of his instructions "in all of its chapters," and asks his audience whether they understood everything. Then he proceeds to give two examples (mifano, paragraphs 26 and 27), which turn out to be descriptions of the mission church, emphasizing its hierarchical and territorial organization and the precarious role of the Jamaa mediating between the Church and the pagans. Up to the that point the sections constituted by paragraphs 26 and 27 appear to be quite similar in function to the level of discourse which in Text 1 we labelled as "organization" (see Figure 3). Its concern we interpreted to be with integrating individual motivation into the institutional patterns of the Jamaa and the mission Church. However, there are contextual reasons which compel us to regard these external resemblances between Text 1 and Text 3 as deceptive. It turns out that the significant break between the main account of Text 3 and the inserted passage does not occur as a switch of levels but as a change in the sequence on the level of recall: In this section the main actor in the mythical events is no longer Mungu, but Bwana Yesu Kristo, the Lord Jesus Christ (see paragraphs 28 and 31). On the other hand, Bwana Yesu Kristo is not simply introduced as a new actor in a basically unchanged plot, as is the case with the angels Lucifer and Michael.
The mafundisho about the angels does not end with, and is not resolved by, Bwana Yesu Kristo. To achieve that, the speaker returns to the main story, and this he signals at the end of paragraph 32 when he refers rather abruptly to Michael and then carries on by resuming the story where he had left it in paragraph 25. This presents us with a problem, the solution of which leads us to distinguish between two different ways of accounting for the inserted passage. One of them could be sought in the motivation of the speaker, i.e., in the way he consciously controls the communicative situation. Earlier, we argued that paragraphs 26-32 are addressed to the actual, rather than the ideal, audience called for by the generic characteristics of the mafundisho. We are now in the position to point to certain text-immanent reasons which enable the speaker to change the direction of his rhetorical appeal without forcing him to abandon the rules governing the generic and stylistic identity of Text 3. The contrast between the main account and the insert can be interpreted as marking two different levels rather than sequences of mythical time: the time of Mungu and the time of Bwana Yesu Kristo, or in more abstract terms, the time of creation and the time of salvation. If this is accepted, then we must conclude that our two-dimensional schematic representation of narrative structure is not able to accommodate the complexities of temporal organization in Text 3. Somehow we must formally recognize the fact that our speaker creates the mythical-historical appeal of this instruction not only by recalling mythical models/sources for historical reality; he also invokes a progress within mythical time from the period of creation in which extra-mundane actors, God and the angels, established paradigmatic events and models, towards a period in which mundane actors (persons acting in the world) laid the foundations of the socially organized context in which the speaker locates himself and his audience.
Text 3 seems to tell us that what happened with and through the angels accounts for the division of humanity in terms of languages, race and culture, political organization, and class structure (references will be given below). The deeds of Christ and his apostles defined the task of the organized Church. We must conclude, then, that mythical time itself is structured in terms of contrasts. The challenge which this brings against the Lévi-Straussian model cannot simply be removed by pointing to the fact that a mafundisho is unlike a truly "primitive" myth in that it is influenced by a Christian conception of sacred history moving from creation to fall to redemption. If that would be the case, then our text should roughly have the following construction (see Figure 7).
---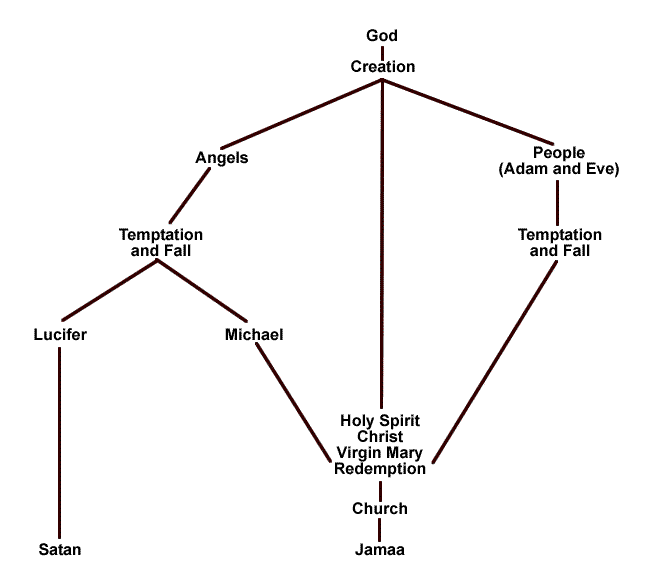 Figure 7: The Christian Model of Sacred History.
---
It is interesting to note that Tempels' own published version of the instructions about angels does in fact follow that schema (Tempels 1962:191-99). There the account of the primordial events is not interdigitated with segments describing historical realizations. In fact, there is a tendency to depict the events as a dynamic of ideas (those of the three thoughts) rather than as actions. The story of Lucifer is explicitly related to that of Adam and Eve, and the account ends with Christ and His Church. The practical context, by the way, is evidently not viewed from the vantage point of an African leader in a phase of external consolidation and internal troubles. Tempels relates his story of Satan to the perils of "politics," i.e., the upheavals following accession to Independence. The shape of Text 3 is quite different. Despite the fact that the speaker occasionally asserts that "Jamaa is the Church," or vice versa, we find in the narrative construction of this mafundisho an entirely different message. Jamaa pre-exists the organized Church in the sense that it has its paradigmatic models in events and entities before the Fall, and even before Creation, as we have seen in the instructions on umuntu. Jamaa exists apart from the Church, which must be concluded from the fact that the main task of the movement is to serve as a mediator between the organized Church and the pagan world. In other words, the idea of the Church as founded by Jesus Christ and represented in the hierarchy of his successors is not placed at the end of history of creation/salvation, but is encased in a total conception of reality in terms of past mythical reality and its present actualizations. Thus Text 3 is more appropriately represented by the following graph.
---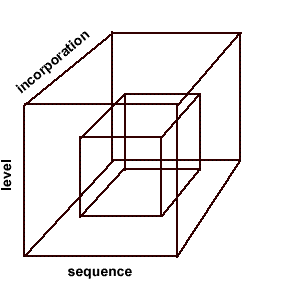 Figure 8: Construction of Text 3
---
If the outer cube represents the main account and the inner cube the inserted passage, our graph indicates that the construction of Text 3 shows a third dimension -- incorporation -- beyond the two distinguished earlier (level of discourse and narrative sequence). It is this incorporative dimension which allows the Jamaa to resorb the challenges of a concrete historical situation (i.e. the relationship between the movement and the Mission Church). Text 3 presents us with an example for this tendency. One may assume that the inserted passage expresses a contradiction between the speaker's momentary motivation (to address the representative of the church in his audience) and the inner, stylistic logic of the text which calls for a continuation of the doctrinal account.
Our mafundisho about the angels shows ways in which such contradictions can be resolved in the praxis of the Jamaa. Acceptance of, and involvement with, mawazo enables the followers to cope with the challenges of their everyday world. What in our analysis of Text 3 is suggested graphically seems to be achieved by the Jamaa follower existentially: challenges are met not by confrontation but by incorporation. We shall further investigate that aspect in the following section.
First, however, we must briefly reject a tempting avenue of speculation. It would seem that the difference of thought and argumentation revealed in the two schematic representations of Text 3, Figures 7 and 8, simply reflects long-established contrasts between "linear-historical" Western views and a mythical "African" conception. This notion has been held for a long time. For instance, John S. Mbiti, especially in his description of the typically African concept of history and pre-history (1970:29-31), expressed a thought that seems to fit our own analysis of Texts 2 and 3 quite well:
African peoples expect human history to continue forever, in the rhythm moving from the Sasa [now] to the Zamani [then], and there is nothing to suggest that this rhythm shall ever come to an end (ibid. 31).
On a sufficiently general level, this may be true; our own focus on the emergence of a concrete body of thought would necessitate a number of qualifications. To begin with a minor point, the direction of argument is not always from the present to a mythical past. In Text 3, this does occur, for instance, at the junctures between paragraphs 6 and 7, 11 and 12, and above all 27 and 28. But generally it proceeds the other way round. It is in the sequence of mythical events that we find the narrative continuity of the account, giving a meaningful continuity to whatever present realities are being traced to mythical events. Any given pair of segments in which we see the switch from recall to realization may leave the impression that the temporal direction is a reversible one; the mythical model may be stated and then identified in present reality or, conversely, a concrete state of affairs may be traced to a mythical model. However, in the total context of the narrative, the temporal dimension is expressed in an irreversible sequence of consecutive events. This is true for the "Western" as well as the "African" scheme. The decisive difference seems to lie in the contrast between an exclusive conception of sacred history and an incorporative view such as the one suggested in Text 3. However, the Jamaa material offers no evidence in support of a clear-cut distinction between Western and African ways of thought along these lines. What appears to be closest to the African type is in fact but one of the possible realization of mawazo, deriving its characteristic structure from one of the possible styles of presentation. The structure of Text 3 is not unique, as we could demonstrate on a number of similarly constructed mafundisho, but neither is it the dominant form throughout Jamaa teachings.
Furthermore, as is often the case in high-level comparisons of Western and non-Western modes of thought, the entire argument is based on a fallacious presumption uniformity in the Western counterpart. Rigorous investigation of Christian folk-religiosity, which is almost completely lacking, and knowledge of the history of theological thought, for which there is ample material, would reveal that decisively "non-Western" views have played and still are playing an important role in the ideological makeup of Western Christian thought.20
The point is that critical anthropological interpretation cannot rest on applications of highly generalized schemes. These are bound to dissolve into irrelevance as soon as a system of thought is confronted in the practical dimension of its production and communication. Only if it were to be taken out of its context could Text 3 serve as evidence for basic differences between Western and non-Western styles of historical thought.
Having disposed of a tempting shortcut, we can now seek further understanding of the mythical-historical style shaping our text by examining some of the more prominent lexical features. First, Text 3 contains overwhelming evidence for a cosmological setting. The world is divided into heaven (mbingu) and earth (dunia) and this is constantly asserted either by explicitly listing the contrast or by locating a given event in one of the two spheres, implying the existence of the other (see paragraphs 1, 3, 5, 8, 11, 12, 13, 18, 21, 22, 23, 27, 28, 34). The contrast between heaven and earth may serve to distinguish between a Jamaa above and a Jamaa below (as for instance in paragraphs 12, 13, and 22), or it may be the logical frame for the actions of God who "descends" (kushuka, paragraph 23), and puts down, places man on earth (kuweka, paragraphs 8, 27). The latter term is particularly interesting in that it reveals some of the intricacies of the mythical-historical style. In paragraph 27, kuweka is used to signify both the cosmological placement of the Jamaa on earth and the institution of the Church. In other words, the legitimation of authority in the hierarchical church is being rejoined to the general cosmological act of creation rather than traced to a specific historical mission.
Corresponding to this general setting is the prominence of another cosmological key term, kazi, work and its verbal forms, especially kutumika (see paragraphs 2, 8, 9, 14, 17, 18, 21, 22, 26, 27, 29, 30, 32, 33, 35). Its most frequent connotation is that of the task given by God to the angels (e.g., paragraphs 2, 8) and to man (e.g., 9). It is the raison d'etre for the angels (e.g., 14), but it may also express the everyday labors of the priests (17) and of laymen (22) and their common lot (26), seen in contrast to "other interests" such as politics, industry, and commerce (32) and especially the machinations of Satan (35). An interesting lead is provided by the word kutumika, to work, which is a derivation from kutuma, to send. This makes it possible to express the "mission" of man through different forms of the same term (as in paragraph 18) and to link them to the general movement of mawazo, for instance when God tells Michael that he is similar to Him "because you love to work with my thoughts" (33).
Then there is the idea of "the way," which is typical of the mythical-historical style. In Text 3 the nominal form, njia, occurs only once in the phrase njia ya bukristo, the way of Christianity (at the end of paragraph 30). But the idea of walking or traveling as a method for guiding the movements's conception of its historical mission is expressed in a number of verbal forms (for instance, kuenda, to go; kupita, to pass, to visit). These occur in contexts which deal with the practical task of the Jamaa (such as converting pagans and destitute Christians, see paragraphs 27, 29, 31, and 32) but also with its final aim, which is to go to heaven (kuenda mbinguni, see paragraph 22).
Finally, we must direct our attention to a group of terms which occupy in Text 3 a position at least as prominent as the cosmological concepts we expected to be characteristic of the mythical-historical style. We shall list these now with brief comments, although we shall be in a position to explore their significance more fully when, in the following section, we examine the socio-cultural context of our document.
In clear contrast to the instructions on umuntu where Jamaa thought is predicated on "man" in the universal, transcendental meaning of the word, the present mafundisho is dominated by a notion of man stressing his social nature. This is expressed in the term nkundi, a group, a multitude, or society, which pervades the entire text (paragraphs 4, 8, 10, 13, 16, 17, 18, 20, 21, 23, 26, 32, 33, 37). Following the pattern of a cosmological dualism, the account pictures the angels as divided into groups, first on the basis of created differences such as language (paragraph 4), or intelligence (paragraphs 7, 12), but later on through alliance with the two leaders, Lucifer and Michael. All these divisions are also the models or actual causes of divisions among people based on race and culture (for instance, paragraphs 5 and 6), but also on social status and class (for instance, paragraph 22).
One would, of course, have to ask why these mythical roots are sought among the angels rather than among the people of primordial times. The answer may have to be sought in a conscious attempt by the founder to link the Christian idea of angels to African conceptions of spirit-beings (see, for instance, Tempels 1962:191). Jamaa doctrine, however, indicates that in the course of that translation the idea of the angels assumed a specifically African, or perhaps Luba, connotation in that ultimately all spirit-beings are also ancestors (see the Luba notion of vidye in Van Avermaet and Mbuya 1954:783 ff). Our text, by the way, contains an interesting indirect confirmation of this view. In paragraph 11 we find an error or slip of the tongue, suggesting that in the mind of the speaker a close proximity of the idea of Lucifer, the leader of the bad angels, and of Cain, the Biblical ancestor of bad people.
Social reality appears to be firmly rooted in a mythical past. But the mythical constitution of social reality does not at all imply a static image of the world. In the main plot of the story, as well as in several segments of its realization, the diversity of groups is explained in terms of active pursuits, such as an intention to split (kukata) what should be united (paragraphs 20, 21, 23) or, more importantly, to create divisions in the course of searching for power over others (see the notion of bukubwa, paragraphs 10, 12, 17, 18, 19, 22). Nor are all divisions (see mbali mbali, paragraphs 6, 7, 8, 23) intrinsically and irremediably bad. At one point the speaker offers a thought which we found in other contexts of Jamaa teaching: God created the angels with different languages and different degrees of intelligence so that they should create unity out of diversity (see a similar application to the household, paragraphs 7, 9). This introduces a dialectical slant into the argument. Similarly, man's integration into a social group is not stated as a flat proposition, but is placed in a field of tension between sociality and absolute individualism (see the concept of upeke and similar forms in paragraphs 18, 23, 25, 36). It is true that these appeals to a mythical past give meaning to present reality, but they are by no means system-maintaining justifications or rationalizations, as anthropological analysis has often maintained, at least not in the obvious way in which this was thought to be the case. The point is that mythical thought, like any other thought, derives its effects from argumentation and discursive reasoning, not from simple moralizing.
Finally, regarding the use of stylistic devices in Text 3, we have little to add to our previous observations. Greetings and above all sentence-completion are less frequently employed than in Text 2. This is probably due to the fact that the size of the audience and the locale made intensification of speaker-listener contacts unnecessary. Occasionally, the speaker announces that he is going to give a "little example" or a concrete illustration (mufano, see paragraphs 5, 9, 18, 26, 27), but it is difficult to separate these segments as distinct devices from the overall stylistic structure of the text, in terms of which a switch from the level of recall to that of realization may be signalled by the term mufano (for instance, paragraphs 5, 9).
Socio-Cultural Context
Why did baba Binga, when asked to give a mafundisho, choose this particular topic? My field notes do not indicate that either I or the missionary had asked for an instruction on the angels. The reasons why it was selected from among the many possible mafundisho may have been accidental but there is enough circumstantial evidence to allow us to assume a connection between topic as well as style and the concrete situation of the speaker. When the recording was made, baba Binga had come to the end of his career as a Jamaa leader in the Kolwezi area. He had decided to quit employment by the mining company and to return to his native region in the Kasai. (He was a speaker of Kete.) He departed from Musonoi in June, 1966, leaving the group with considerable problems of successorship. His was not an unusual move; many workers returned to their home villages for different reasons. On the other hand, baba Binga was at that time only about forty years old and held a very good position. It may well be that he capitulated in the face of insurmountable difficulties with the movement.
In our collection of texts, we have a testimony of his in which he recalls the sufferings and visions he had during a brief and unwarranted imprisonment. These he links to his efforts to preserve or restore the unity of the movement in Kolwezi and in the Likasi and Lubumbashi areas. His account concludes with the following paragraph:
I had lost so much weight that some became worried when they saw how much I suffered. Some said: Bababa, let us listen to the things this man tells us. Because we see the suffering of baba Binga, what he tells us is killing him in his soul. This is how I worked and then I returned to Kolwezi.
It is on the background of his labors which, in the end, were frustrated and must have forced baba Binga to perceive his failure that we must appreciate his allusion to the "dangers" in the Jamaa (kintu kya hatari, see paragraph 17) and to actual schism (ibid.). In fact, his account of the big rally of the angels (paragraph 23) in which the split between Lucifer and Michael was finalized almost literally (see Fabian, 1971a:85-88) repeats a passage in the testimony quoted above in which he recalls a similar confrontation and split between two leaders of the group of Musonoi. In both cases he sees competition for power behind these divisions. In his chosen role as the one who fights for unity and integrity of the movement, he had to face the enemy on other fronts, too. There was the danger of resignation and paternalist reliance on the hierarchical church (paragraph 18). And there are the challenges from outsiders who speak with the tongue of Lucifer and denounce Christianity as the white man's contraption, who try to undermine the men's belief in monogamous marriage and win the women for part-time prostitution (see paragraphs 35, also 37). Furthermore, he is quite aware of the fact that all these afflictions and temptations arise in the wider context of a problematic and often corrupt (post-)colonial situation. Text 3 contains many astute observations and incisive vignettes which deserve our attention. At times baba Binga's comment on colonial reality is oblique and perhaps unintended, for instance, when he chooses the system of grading and evaluation in mission schools to illustrate the intellectual superiority of Lucifer over other angels (paragraph 15); or when he describes the intentions of the white missionaries as not being concerned with colonial administration, or commercial or industrial enterprises. Of course, by the very choice of terms his statement is charged with subtle irony and criticism (see paragraph 32). At other times he is more direct. In the guise of recounting the attitudes of Jesus Christ towards the ignorant, the simple, and the weak, he castigates the Pharisean pretensions of the clergy (see paragraph 28). In one passage he gives a poignant image of the poor worker's consciousness (paragraph 22). Similarly astute are his observations of the ethnic and linguistic problems facing a new nation (for instance, paragraphs 5 and 6). All in all, one cannot help but be impressed by the intellectual effort which the speaker brings to bear on a social reality he perceived as threatening, divisive, and antagonistic. He expresses a characteristic stance of Jamaa thought when he deals with these problems not by denying them, but by incorporating them into the system of reasoning called mawazo.


---
Notes
1 Unlike in Text 1, here the color triad is introduced without replacing the neutral term beupe (= mweupe, "white") with the racial category muzungu (see Text 1, note 8).
2 In this passage the formation of terms signifying languages and countries is somewhat muddled. In tshi-ma-ngala the speaker compounds the prefix used for languages, tshi- (the Tshiluba equivalent of ki-), and the collective plural ma-; for "French" the prefix is followed by the name of the country, whereas for "Belgian" and "English" adjectives are used as stems. The plural form ma-bulaya yote is also unusual. Among the possible alternative translations "all the foreign countries" and "all the parts of Europe," I chose the latter, since bulaya (East Coast Swahili ulaya) consistently refers to Europe.
3 Our translation is abbreviated, avoiding a difficulty posed by the form kulipanda. Most likely this is the speaker's pronunciation of the reflexive form ku-ji-panda, "to raise oneself".
4 The original has the verb -tenga, "to order, to put in place". Perhaps the speaker wanted to allude to the constant danger of the formation of groups leading to separation.
5 The original gives a more vivid impression of contempt for the simple working man by using expressions for the lowest possible category of manual labor in the mines, tout travail or, in Swahili with Fanagalo reminiscences, kutumika piki na posholo.
6 Mukoshi the Katanga Swahili form mkosi, "bad omen" (Oxford Standard Dictionary, p. 287).
7 It is tempting to translate inchi ya bantu as "country of the Bantu," if it were not for the sentence immediately following. In Shaba/Katanga the term bantu has not been narrowed down to the South African usage. Nevertheless, the phrase carries a connotation of "country of the natives," as can be documented in other contexts (cf. Fabian, 1971a:183).
8 The French terms province and parcelle are the administrative categories for national and municipal partitions. Zaire was divided into provinces; a homeowner in a city is allotted a parcelle. Similarly, quartier is an official term for subdivisions of a city for which colonial planning provided a church and parish.
9 Here we have an interesting example of the many meanings of mawazo. In an immediate sense the term refers to the preceding account. But the idea behind it seems to be not so much a division as a realization of mawazo. Notice that mawazo is the grammatical subject of these sentences: mawazo... inamuwaza, lit. "thought thinks him".
10 This is our translation for neno, lit. "word", which in Katanga Swahili most often occurs in the plural form, maneno, signifying a case of litigation, a palaver, or simply a person's affairs.
11 In this translation I am following local usage, which refers, e.g., to the fishing communities along the Lualaba River as baluba ya maji. Kushonkesha palata is the local expression for collecting the head-tax imposed by the colonial government (see Van Avermaet and Mbuya 1954:633; palata derives from the Portuguese plata, "silver").
12 I translate the French mouvement as organization. The speaker knows it as a label for many religious and other organizations, and his remark is directed against a merely sociological interpretation of the Jamaa. In this he directly reflects the founder's arguments. Notice also that he now addresses the persons present, not the fictive audience of a Jamaa group.
13 Bilakushi most probably derives from ku-laguisha, a current expression in Shaba/Katanga Swahili for "to consult a diviner" (from ku-agua).
14 This is one possible translation of mwenzetu (a pronominal possessive, see other forms below) that can connote all sorts of relations of closeness or equality -- same age, same gender, same ethnic or regional origin.
15 Ku-benga (possibly related to East Coast ku-beja?) is a current expression in Katanga Swahili for showing lack of respect. Probably taken over from Kiluba (cf. Van Avermaet and Mbuya 1954:62), it seems to have preserved the semantic complexities of its original setting (for an extended commentary, see Fabian 1971a:89).
16 For the philosophical "Foundations of a Theory of Intersubjective Understanding" see an essay by A. Schütz (1967:97-138). Note 2003: This passage formulates thoughts that were to guide my work ever since (see Fabian 1991: ch. 1 [orig. 1971b] and 2002 [1983]).
17Although this is not our present concern, we may point out that the extension of the future into indeterminate eternity (milele na milele) may be a distinctive mark of mythical argumentation. Furthermore, the evocation of a "today" as well as the formulaic character of the conclusion have direct counterparts in the language of Christian liturgy.
18See on this Fabian 1971a:87f.
19 When the missionary and I worked on the transcription of Text 3, baba Binga was asked to help us with some difficulties. He agreed but upon hearing his recorded voice he accused us--half seriously -- of "stealing" his mafundisho. He left no doubt about his sense of authority and authorship.
20 The case of Jamaa doctrine raises some particularly interesting problems. It has been observed by others (DeCraemer 1965:54) that Tempels received through his Franciscan education a "Scotist" theological orientation which, in contrast to dominant Aristotelian-Thomist schools, held ideas of the pre-existence of God-Man and of the Church quite similar to those which we find in Jamaa teaching.


---
References
De Craemer, Willy. (1965). Analyse sociologique de la Jama. Léopoldville: Centre de Recherches Sociologiques.
Fabian, Johannes. (1971a). Jamaa: A Charismatic Movement in Katanga. Evanston: Northwestern University Press.
Fabian, Johannes. (1971b). Language, History, and Anthropology. Philosophy of the Social Sciences 1: 19-47.
Fabian, Johannes. (1991). Time and the Work of Anthropology: Critical Essays 1971-1991. Chur: Harwood Academic Publishers.
Fabian, Johannes. (2002). Time and the Other: How Anthropology Makes its Object. Second Edition. With an Introduction by Matti Bunzl. New York: Columbia University Press.
Mbiti, John S. (1970). African Religion and Philosophies. Garden City, N. J.: Doubleday Anchor Books.
Schütz, Alfred. (1967). The Phenomenology of the Social World. Evanston: Northwestern University Press.
Tempels, Placide. (1962). Notre rencontre. Léopoldville: Entre d'Etudes Pastorales.
Van Avermaet, E. and B. Mbuya. (1954). Dictionnaire Kiluba-Français. Tervuren: Musée Royal du Congo Belge.

---
---
© Johannes Fabian
Deposited at APS: 10 July 2003
The URL of this page is: http://www.lpca.socsci.uva.nl/aps/vol5/jamaaofangels.html

---