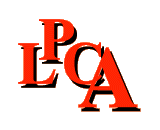 Introducing LPCA
LPCA Advisory Board
Using LPCA materials
LPCA now and in the future
How to contribute
Contact us
LPCA Editorials:
Texts and ownership
LPCA: Where are we?
---
explore the LPCA website: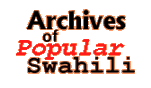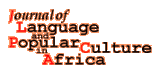 Language and Popular
Culture in Africa
14 January 2005

Le site LPCA (Langage et Culture Populaire en Afrique) vise d'une part à fixer les expressions du langage et de la culture populaires en Afrique Centrale et d'autre part à publier les recherches s'y référant. De ce fait il comporte trois sections : les Archives of Popular Swahili, le Journal of Language and Popular Culture in Africa et LPCA Text Archives.
Les Archives of Popular Swahili offrent des textes recueillis au Katanga entre 1960 et 1990. Elles sont cependant appelées à étendre leur contenu au-delà de cette période et à toutes les régions où le swahili non-standard est utilisé comme lingua franca. D'autres langues bantu d'Afrique Centrale jouant un rôle analogue dans les centres urbains ne seront pas exclues. On peut déjà consulter dans ces Archives entre autres des textes du journal Mwana Shaba, des pièces de théâtre de Mufwankolo, différents Mafundisho de la Jamaa, l'histoire du Zaire peinte par Tshibumba Kanda Matulu, les écrits de Buntungu sur l'Europe de la fin du XIXème siècle, les conversations de Fabian avec Baba Ngoie Nday ainsi que les commentaires de Baba Kalundi Mango sur le vocabulaire de la ville d'Elisabethville publié par les soins d'André Yav.
Enrichissez les Archives of Popular Swahili et les LPCA Text Archives en versant sur le site LPCA des poèmes, des lettres, des autobiographies, des textes à caractère religieux... etc. Que ces pièces proviennent des collections privées ou qu'elles aient déjà été éditées, les règles en vigueur en matière de copyright seront scrupuleusement respectées.
Merci de nous prévenir si vous menez des recherches sur les documents que ces Archives mettent à votre disposition. Vous nous permettrez à notre tour de vous mettre au courant des travaux en cours ou déjà réalisés. Inutile de rappeler que les résultats de ces études seront les bienvenus dans le Journal of Language and Popular Culture in Africa.

---
Language and Popular Culture in Africa
c/o Vincent de Rooij
Dept. of Sociology and Anthropology
University of Amsterdam
Oudezijds Achterburgwal 185
1012 DK Amsterdam
The Netherlands
e-mail v.a.derooij [at] uva.nl
---
Last revised/updated: 6 February 2018
Construction and maintenance of this site by Vincent A. de Rooij

---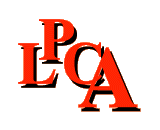 latest additions
Archives of Popular Swahili, Vol. 17
Swahili is elephant meat: A play by Mufwankolo and two members of his troupe, transcribed, translated, and commented by Johannes Fabian
Archives of Popular Swahili, Vol. 16
Churches proliferating – where will it end? A play by Mufwankolo and two members of his troupe, transcribed, translated, and annotated by Johannes Fabian
Archives of Popular Swahili, Vol. 15
"Prayer groups" in Lubumbashi: A conversation with Régine Tshitamba and members of her family, recorded 24. 6. 1986 at her home in Lubumbashi, Zone Kampemba, transcribed, translated, and annnotated by Johannes Fabian
Archives of Popular Swahili, Vol. 14
The Jamaa Files, transcribed, translated, and annotated by Johannes Fabian
Archives of Popular Swahili, Vol. 13
Conversations with the painters Mwenze Kibwanga and Pilipili Mulongoy, transcribed, translated, and annotated by Johannes Fabian
Archives of Popular Swahili, Vol. 12
Conversations about Katanga Genre Painting in the 1970s, transcribed, translated, and annotated by Johannes Fabian
Archives of Popular Swahili, Vol. 11
Swahili remembered: Two conversations, transcribed, translated, and annotated by Johannes Fabian